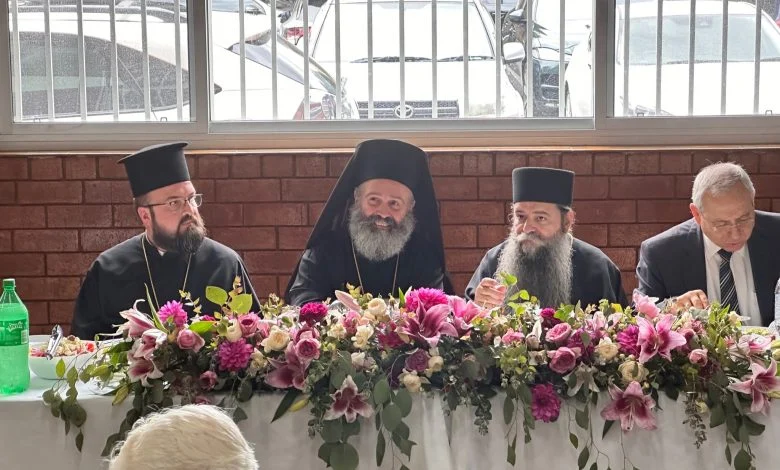 On Meatfare Sunday, 19 February 2023, the day our Church commemorated the memory of Saint Philothei of Athens, His Eminence Archbishop Makarios of Australia visited and officiated at the Holy Church of Saint Euphemia, in Bankstown, Sydney.
After the conclusion of the Divine Liturgy, His Eminence conducted the Agiasmos Blessing for the commencement of the new school year of the Sunday Schools of New South Wales, after which His Eminence attended the annual Meal in support of the building program of the Holy Monastery of The Mother of God Pantanassa, Mangrove, which was hosted in the Hall of the church of Saint Euphemia.
Before Father Eusebios, The abbot of Pantanassa Monastery, as well as Geronda Father Stefanos, Former Abbot of the Monastery, the members of the monastic brotherhood, clergy and many lay people who honoured the fundraising event with their presence, His Eminence Archbishop Makarios first spoke about the importance of love and unity in Christ, which constitutes a foretaste of eternal life close to the Lord. He expressed his special joy for the fact that this love and unity in Christ brought everyone together, at a meal in support of the sacred work carried out by the Holy Monastery of The Mother of God Pantanassa.
"We are all here because we appreciate the important work that our monks and nuns do in the monasteries more broadly", His Eminence emphasised and pointed out: "Indeed, the importance of flourishing monastic centres in a Church, in an Archdiocese, like ours here in On the contrary, it should never be underestimated. The presence of holy monks and nuns in the world today is an integral element in the life of the Church. It is a visible reminder, for those who live in society, as we do, of the reality and fullness that will prevail during the eternal Kingdom of God, when all else ceases to exist."
Subsequently, Archbishop Makarios discerned that monasticism is essentially a genuine witness to the words of Christ: "But seek first the kingdom of God and his righteousness, and all these things will be given to you as well." (Mat 6:33). "Having laid aside all earthly cares," he pointed out, "monks represent the life of Paradise here on earth. And in this way, they allow us to breathe the air of the Kingdom of God when we are among them."
For the above reasons, His Eminence Archbishop Makarios described the duty of the members of the Church body as supporting the monastic centres in any way they can, so that they continue to prosper and progress. He concluded by praying for God to bless the Holy Monastery of the Mother of God Pantanassa, Mangrove and all the God pleasing works of this monastic brotherhood.