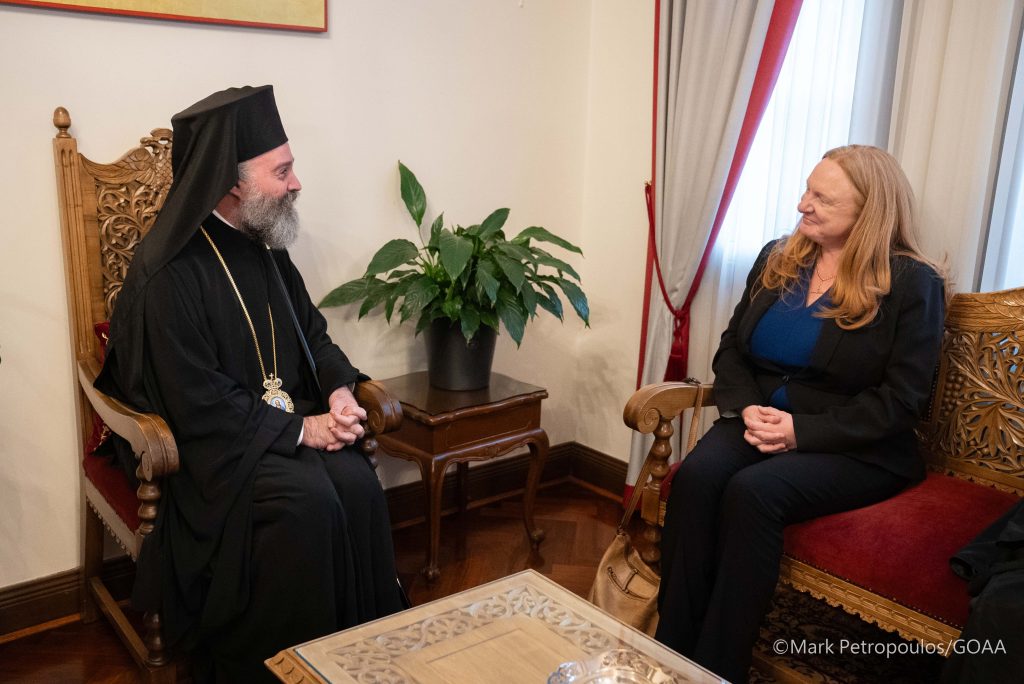 On Thursday, 22 June 2023, the new Ambassador of Australia to Greece, Ms. Alison Duncan visited the headquarters of the Holy Archdiocese of Australia in Sydney. At the entrance of the Cathedral of the Annunciation of Our Lady, Ms. Duncan was welcomed by His Grace Bishop Bartholomew of Charioupolis and the Chancellor of the Holy Archdiocese, Archimandrite of the Ecumenical Throne Christophoros Krikelis.
During her tour of the Cathedral, Ms. Duncan had the opportunity to light a candle and learn about the history of the Church.
Ms. Duncan then made her way to the Archbishop's Office, where she had a cordial meeting with His Eminence Archbishop Makarios of Australia, whose blessing she requested and received in light of assuming her duties at the Australian Embassy in Athens. His Eminence wished the new Ambassador health, strength and success in the multi-responsible task she undertakes.
Afterwards, they discussed the historical ties that connect Australia and Greece and the excellent bilateral relations that the two countries maintain, with the dynamic Greek Omogenia in Australia as a valuable connecting link. Current issues were also at the centre of the discussion, such as, among others, the Double Tax Avoidance Agreement between Greece and Australia.
Finally, His Eminence Archbishop Makarios, on behalf of Ecumenical Patriarch Bartholomew, extended an invitation to Ms. Duncan to visit the Ecumenical Patriarchate. The Ambassador of Australia to Greece graciously accepted the invitation, while warmly thanking His Eminence Archbishop Makarios for the warm hospitality and for the meaningful discussion they had.