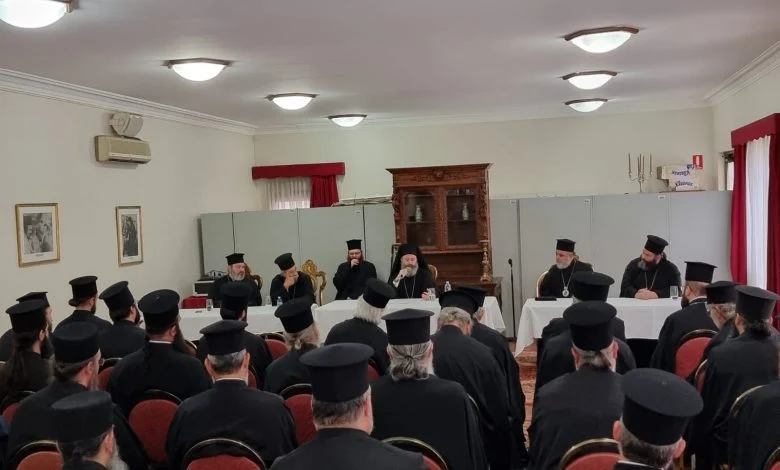 In an atmosphere of contemplation and spiritual reflection, a local Clergy Synaxis of all Sydney Clergy was held on Thursday, 2 March 2023, at the headquarters of the Holy Archdiocese of Australia. The main speaker of the Synaxis was His Eminence Archbishop Makarios of Australia, who also presided over its work.
During his introductory remarks, His Eminence emphasised that "holiness is an ecclesiastical dimension and quality". "Many situations, perhaps reminiscent of holiness and spirituality, can be found outside the Church", he pointed out, "but holiness, as a participation in the holiness of God, cannot exist outside the Body of Christ and the Church". In fact, he did not hesitate to refer to a modern heresy, the heresy of "self-appointed authority", criticising the tendencies of some clerics, who are cut off from the body of the Church and consider themselves to possess the truth.
He characteristically noted: "Today, either regarding the issue of the Autocephaly of Ukraine or the corona-virus and vaccines or the imaginary ecumenism for some, some believing that they possess the fullness of the truth and invoking the alleged example of Saint Maximus the Confessor, Saint Mark of Ephesus, or other Saints – as if they themselves are of the same morals, calibre and holiness – they break the unity of the Church, cut themselves off from it and preach the heresy of "self-appointed authority". In simple words, that is, they emphasise that they as individuals possess the truth and the Church is wrong. While the example of our Saints is the exact opposite. The Saints do not exist outside the Church, because the Church is a pillar and a foundation of truth".
Present also at the Clergy Synaxis were Metropolitan Seraphim of Sevasteia, Their Graces, Bishop Iakovos of Miletoupolis, Bishop Christodoulos of Magnesia and Bishop Bartholomew of Charioupolis. The Hierarchs who were also present spoke to the clergy and gave their own thoughts on the Archbishop's Address . Similarly, the priests also offered their thoughts, their questions, and their concerns, while at the end His Eminence Archbishop Makarios referred to administrative matters and wished everyone a blessed Holy and Great Lent.