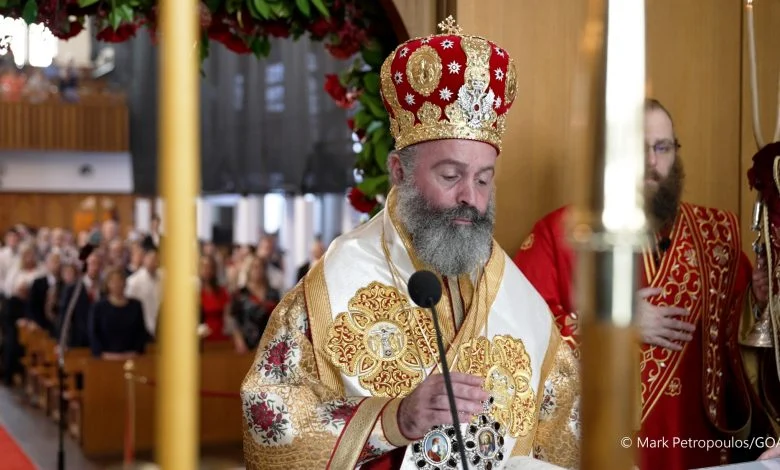 The Great Despotic Feast of the Nativity of Christ was celebrated with splendour in Sydney, in all the Greek Orthodox churches of the Holy Archdiocese of Australia. However, the Christmas hymn "Christ is born, glorify Him" resounded in the beautiful Holy Church of Saint Spyridon for the first time after the recent decision to transform the Community into a Parish of the Holy Archdiocese.
In this joyous and at the same time historic moment, the pious members of the Parish had their Shepherd, His Eminence Archbishop Makarios of Australia close to them, who presided over the Christmas Divine Liturgy, joined also by the Parish Priest of the Church, Father Steven Scoutas, and by other priests of the city of Sydney.
Among others, the Consul General of Greece in Sydney, Mr. Yannis Mallikourtis, and his wife, the new Commercial Envoy of Greece in Australia, Ms. Chrysoula Prokopaki, as well as the Archon of the Great Church of Christ, Mr. Athanasios Kehagioglou, were all present for the festive Divine Liturgy.
During the Divine Liturgy, the message of His Eminence Archbishop Makarios of Australia for the Christmas Feast Day was read, while before the Dismissal of the Divine Liturgy the Archbishop addressed the congregation with a short homily, where he urged us to take refuge in Christ whenever we face difficulties and trials in our lives.
"The Birth of Christ brings about hope for every person and for the whole world", His Eminence underlined in his homily and assured everyone that the Lord will hear their prayers, when they turn to Him with a warm heart and faith. He also urged them not to be afraid in the face of difficulties, recalling that the phrase "do not be afraid" appears 365 times in the Bible, which confirms that "we have no right to be afraid, because we have Christ in our lives".
Concluding, His Eminence Archbishop Makarios wished the faithful who attended the church, to have God's blessing abundantly in their lives and with their families.