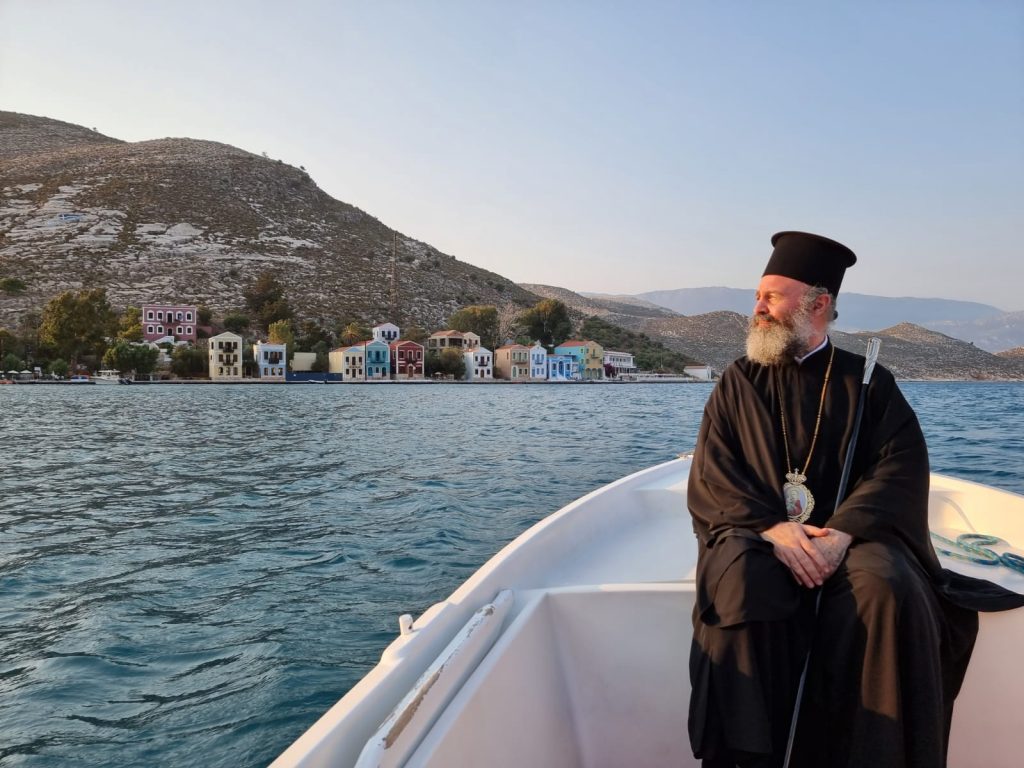 His Eminence Archbishop Makarios of Australia made an official visit to the island of Kastellorizo, in order to celebrate the sacrament of Marriage of expatriates from the fifth continent and, at the same time, to welcome the presence of more than 200 Greek-Australians of Castellorizian descent who are currently on the island.
Upon his arrival, on Friday, September 2, His Eminence was welcomed at the port by the political and military authorities of the island, the Police Commander, the Vice-President of the Consolidated Trust of the Holy Archdiocese of Australia, Mr. Theodosis Penklis, and the Secretary of the Archdiocesan Council , Mr. Nick Papas, as well as a number of expatriates and local residents, while a warm welcome was also given by Fr. Georgios Maltezos, the representative of the local Shepherd, His Eminence Metropolitan Chrysostomos of Symi, Tilos, Chalkis and Kastellorizos.
During His three-day stay on the beautiful and historical island, the Archbishop Makarios had the opportunity to speak with with many expatriates from distant Australia, while he visited some of the churches and monasteries of the island, he was guided to its museums and, finally, he had the joy and blessing to celebrate the Divine Liturgy on Sunday, September 4, at the historic Church of Saints Constantine and Helen.
During his homily in the church, His Eminence thanked the local Shepherd, Metropolitan Chrysostomos, and with warm words praised his successful and wonderful priestly and pastoral work. At the same time, he thanked the local political and military authorities, and the simple and pious people of the island, for the welcome they gave him and for their presence in the church gathering.
It is worth noting that the permanent residents of Kastellorizo amount to approximately 200, while the Greeks originating from this small island, who live in Australia, exceed 50,000.
His Eminence Archbishop Makarios of Australia, who was accompanied by his Archdeacon, Father Athenagoras, left Kastellorizo ​​full of emotion and joy for what he experienced during his stay there, close to the hospitable people of the far-placed Greek island.
On his return, passing through Rhodes, His Eminence had the opportunity to meet for a while His Eminence Metropolitan Kyrillos of Rhodes, with whom he is ecclesiastically connected since both served in the Holy Archdiocese of Crete.