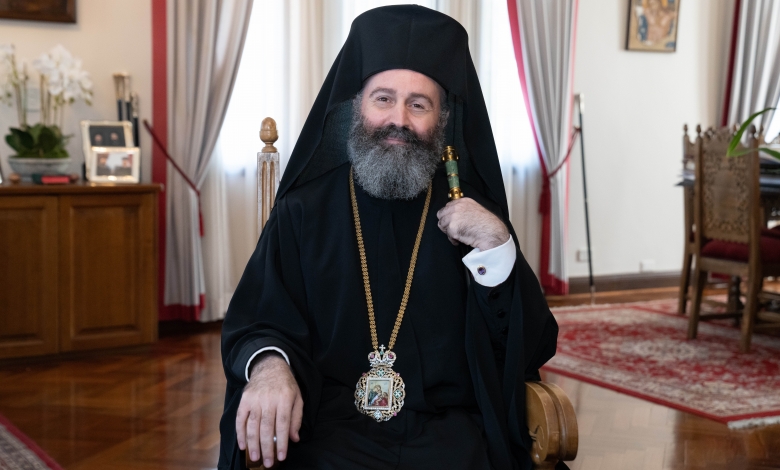 On Saturday before Pentecost, 11 June, 2022, Saturday of the Souls, The Pastoral Visit of His Eminence Archbishop Makarios of Australia begins in the Island State of Tasmania.
On this day, which is the Feast Day of Saint Bartholomew the Apostle, His Eminence with preside over the Divine Litirgy, and at the end of which, He will officiate a Trisagion for the repose of the souls of the Orthodox Faithful. The Divine Liturgy will take place at the Church of the Holy Trinity in Hobart, Tasmania. Present with His Eminence will also be their Graces, Bishop Bartholomew of Charioupolis, Archiepiscopal Vicar of Tasmania and Bishop Kyriakos of Sozopolis, Archiepiscopal Vicar of Melbourne.
Following the Divine Liturgy there will be a reception in the hall of the Parish.
On the Sunday of Pentecost, 12 June, 2022, The Archbishop will officiate at the Matins and preside over the Hierachical Divine Liturgy along with the fellow Bishops at the Church of Saint George in Hobart. At the Church of Saint George, the Kneeling Vespers of Pentecost will also take place, officiated by His Eminence, while after this there will be a meal offered at the 'Greek Hall' in honour of His Eminence and His Pastoral Visit to Tasmania.
On Monday which is the Feast Day of the Holy Spirit, 13 June, 2022, His Eminence will serve once again at the Celebrating Parish of the Holy Trinity, Hobart. During the Divine Liturgy, His Eminence will elevate Father Dimitrios Katsis to Confessor and will tonsure Mr Stefanos Papastamatis a Reader. After the Divine Liturgy, The Greek Festival will follow, which is organised by the Parish of The Holy Trinity.
Finally, On Saturday, 18 June, His Eminence Archbishop Makarios of Australia will travel to the Greek Orthodox Parish of the Dormition of the Theotokos in Launceston, where He will preside over the Matins and Hierarchical Divine Liturgy.
During the days, from Tuesday 14 until Friday 17 June, 2022, His Eminence will have important meetings with certain State Members of Parliament, as well as with the Archbishops of the Roman Catholic and Anglican Churches. At the same time, he will meet many of the expatriates, with whom he will discuss the future of Hellenism in the State of Tasmania.