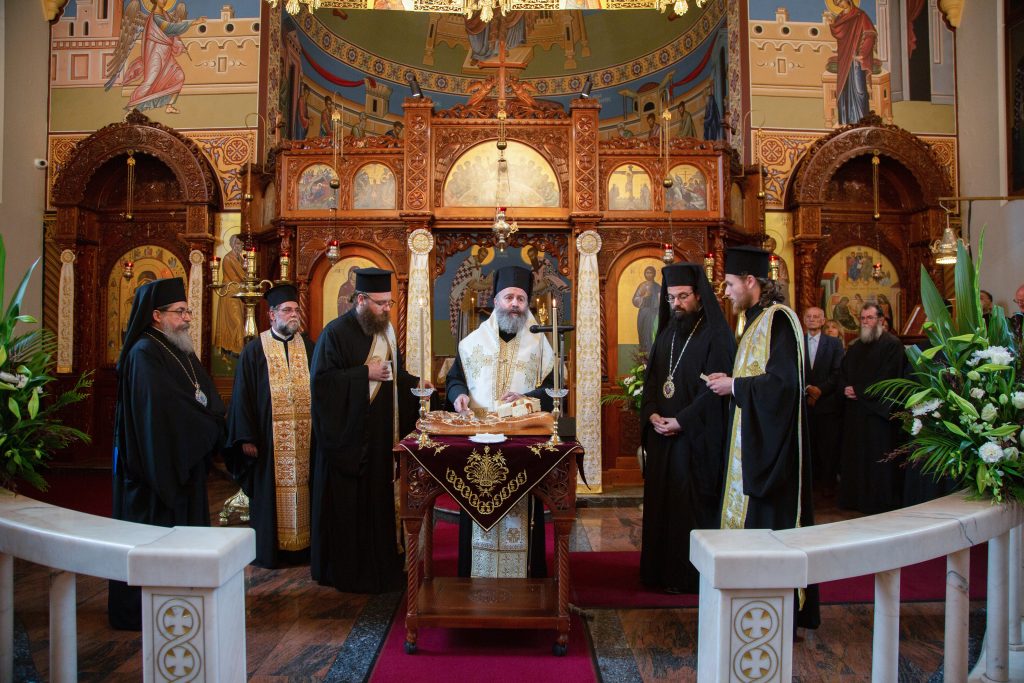 'May 2023 bring health, peace, unity, and progress, and let us all live closer to Christ'; with this prayer, His Eminence Archbishop Makarios of Australia, blessed and cut the New Year Vasilopites of the Archdiocesan Districts of Melbourne and Northcote, in the state of Victoria, where His Eminence is currently conducting a four-day pastoral visit, in light of the Great Despotic Feast of Theophany.
The two modest services took place in the Archdiocesan Churches of Saint Eustathios and the Holy Monastery of 'Axion Estin' respectively, in the afternoon of Wednesday, 4 January 2023.
Present at the cutting of the Vasilopites were the resident Archiepiscopal Vicars, His Grace Bishop Kyriakos of Sozopolis, His Grace Bishop Evmenios of Kerasounta, Metropolitan Ezekiel of Dervis, the Consul General of Greece in Melbourne Mr. Emmanuel Kakavelakis, the President of the Intercommunities Council of Victoria Mr. Antonios Tsourdalakis, the State Member of Parliament Ms. Katerina Theofanous, as representative of the Premier of Victoria, Mr. Daniel Andrews, the Vice-President of the Greek Community of Melbourne, Mr. Marinis Pirpiris, as well as Mr. Nikolaos Archontonis, the brother of His All-Holiness Ecumenical Patriarch Bartholomew, clergy of the Holy Archdiocese and many faithful, including students from the Greek Orthodox Colleges of St. John's College, Preston and Oakleigh Grammar, and children from the "Agapi" Foundation. The Vasilopita Coin of the District of Melbourne was found by Father Antonios Vanikiotis, Proistamenos of the Church of the Annunciation of the Our Lady, East Melbourne, while in the District of Northcote, the Vasilopita coin was found by Ms. Constantina Tsiflidis.
His Eminence Archbishop Makarios of Australia, along with his paternal wishes for the new year that has just begun, also addressed words of spiritual edification to the holy Clergy and the Christ-loving people of Victoria, focusing on the person of Saint Basil the Great, the person that the Church has wisely appointed us to honour on the first day of each calendar year.
His Eminence briefly described the charisms and virtues that adorned the personality of the great Hierarch of Cappadocia, urging everyone to seek these characteristics, to study them, to make them their personal goal and to emulate some of them throughout this year.
His Eminence also recalled that Saint Basil the Great himself advised the people of God to prepare for the next life, the eternal life, which, as the Archbishop pointed out, can be achieved by cultivating our virtues and by strengthening our relationship with Christ.