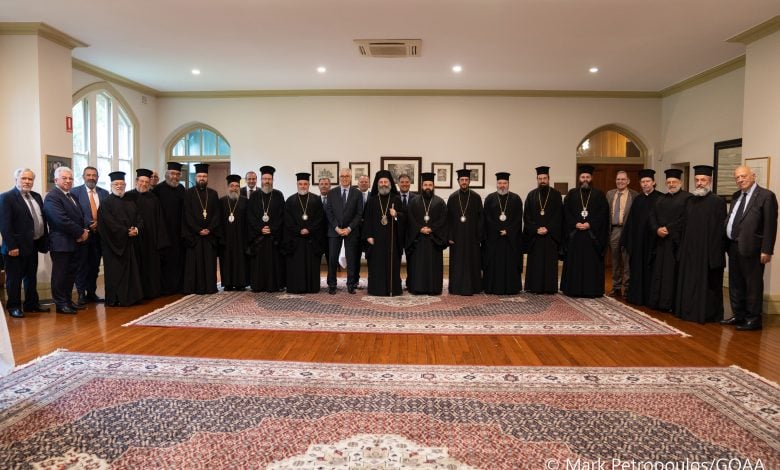 The Archdiocesan Council of the Holy Archdiocese of Australia met on Friday, 20 January of this year, under the Chairmanship of His Eminence Archbishop Makarios of Australia, in Sydney and, after careful and thorough study of the agenda, The President His Eminence and the members unanimously decided and announce the following:
1. A National Committee is established for the celebrations on the occasion of the 100th anniversary of the establishment of the Holy Archdiocese of Australia (1924-2024) by the Mother Church, our Ecumenical Patriarchate. The National Committee will be chaired by the Archbishop himself, while, apart from the Auxiliary Bishops, members will be representatives from all the Archdiocesan Districts and the States. The same National Committee will undertake the preparations for the peaceful visit of His All-Holiness Ecumenical Patriarch Bartholomew, who will preside over the celebrations for this important anniversary of the Holy Archdiocese of Australia.
2. The Clergy-Laity Conference of the Holy Archdiocese of Australia, after postponements due to the pandemic and other practical objections, will be convened in October this year in Sydney, relevant instructions and details will soon be announced to the Clergy and the Laity.
3. The members of the Archdiocesan Council feel the need to publicly express their thanks to the Prime Minister of the country, The Hon. Anthony Albanese MP and Her Excellency The Honourable Governor of New South Wales Margaret Beazley AC KC for their presence at His Eminence's Pastoral Feast Day Dinner. The presence of the two leading representatives of the State at the special Name Day Function of our Archbishop, shows on the one hand the respect that the Australian Authorities have for his venerable Person, and on the other the feelings of honour they have for the Greek Community and the Orthodox Church. In addition to this, the Archdiocesan Council as a whole publicly and privately expresses its gratitude to The Prime Minister of Australia for what he honourably mentioned during his address regarding the character of the Archbishop and his three-year ministry in Australia.