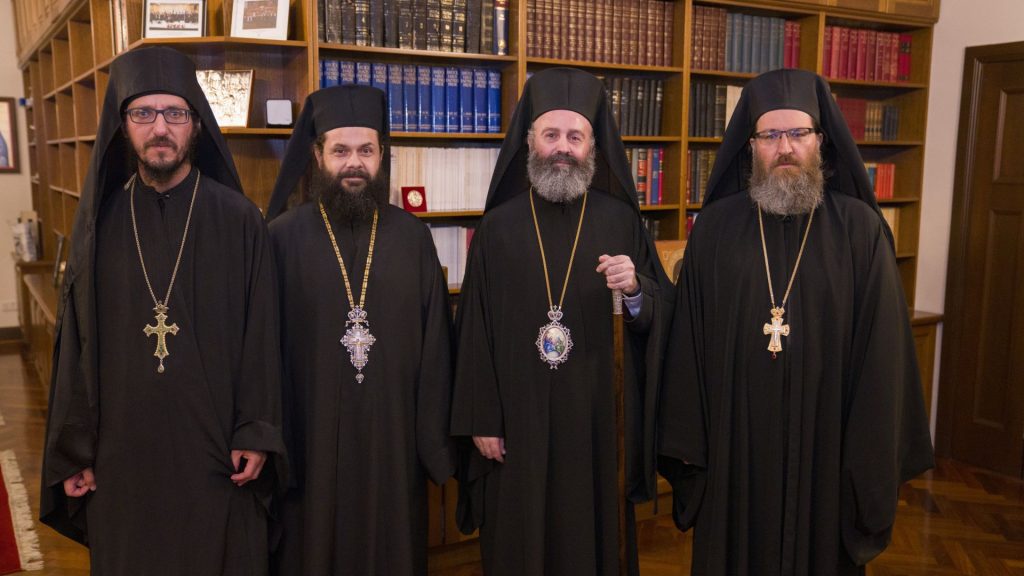 With unspeakable joy and deep emotion, clergy and the laity of the Holy Archdiocese of Australia, accepted the delightful news of the election of three worthy clerics of the Holy Archdiocese of Australia to the rank of Bishop. Archimandrite Evagrios, the Vicar General of the Archdiocese of Australia was elected Bishop of Meloa. Archiepiscopal Elpidios, Archiepiscopal Vicar to Perth, was elected Bishop of Keanea and Archimandrite Silouan, Archdiocese Commissioner to Adelaide was elected Bishop of Sinope.
Immediately after the election of the new bishops by the Holy and Sacred Synod of our Ecumenical Patriarchate, Archbishop Makarios contacted the promoted clerics and announced to them the good news of their promotion, conveying to them the wishes and paternal blessings of our Ecumenical Patriarch. In his correspondance with His All Holiness, following the announcement, Archbishop Makarios stated:
"Your Holiness and Eminence, Father and Lord,
With deep respect, I submit my gratitude as well as my heartfelt and sincere thanks for your acceptance of my proposal regarding the promotion of the three new worthily-elected bishops, whose contribution will be important for the progress and the success of the works of the Holy Archdiocese of Australia and for the witness of our Ecumenical Patriarchate in the Fifth Continent…. I convey the gratitude and deep respect of the brother Hierarchs-elect….. I convey the gratitude of the clergy and laity of all Australia for the honor, trust, love and paternal care graced upon our local Church…. Allow me to convey my gratitude to the Holy Synod Hierarchs, and in kissing your right hand, I pray that you have health and long life to be able to elect many more Hierarchs for the glory of Christ and the Church. "
At noon, on Friday 29 November, in the presence of the clergy and laity of the Holy Archdiocese of Australia, the Office of the Great Message of the God-fearing bishops-elect, Evagrios of Meloa, Elpidios of Keanea and Silouan of Sinope will be read before His Eminence Makarios Archbishop of Australia in the Sacred Cathedral of the Annunciation of the Virgin Mary in Sydney.
The ordinations of the new Hierarchs by Archbishop Makarios will be as follows:
His Grace Bishop-elect Evagrion of Meloa on Christmas day, Wednesday 25 December.
His Grace Bishop-elect Elpidios of Keanea, on the feast of St. Athanasios, Saturday 18 January.
His Grace Bishop-elect Silouan of Sinope on the feast of St. Makarios the Great, Sunday 19 January, being also the day that His Eminence celebrates his name day.