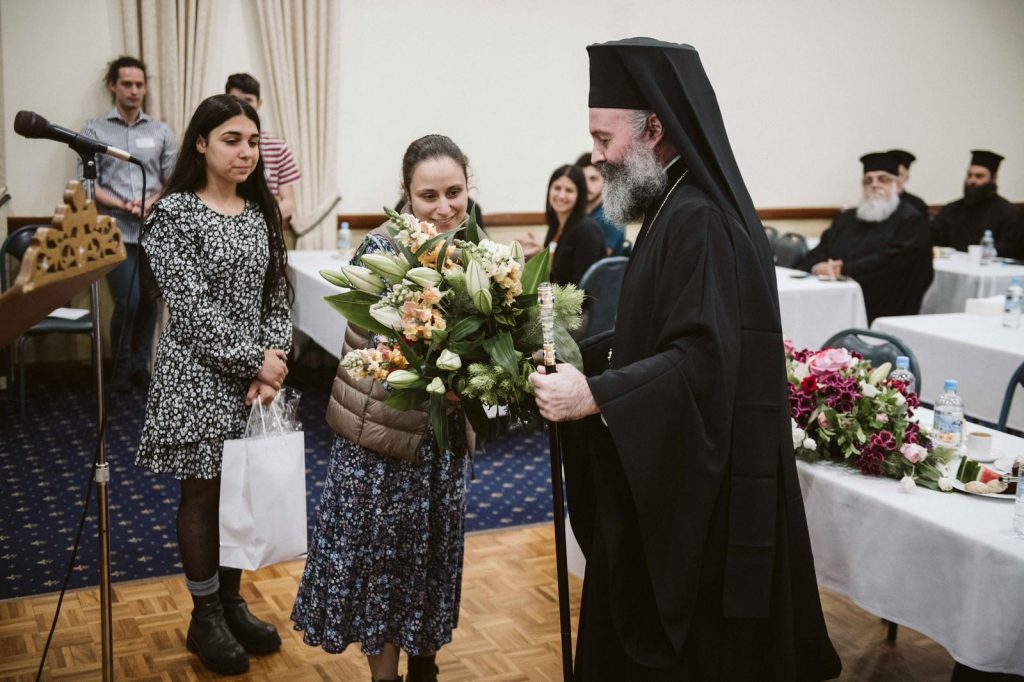 On Saturday, November 26, His Eminence Archbishop Makarios of Australia, who is on a pastoral tour in Adelaide, participated as a keynote speaker at the Youth Conference organised by the Central Youth "St. Stephen the First Martyr" of the Archdiocesan District of Adelaide with the general theme of the Conference being: "take courage, I have overcome the world" (John 16:33).
The proceedings of the conference were hosted at the premises of the Parish-Community of Prophet Elijah in Norwood. The conference was attended by many young men and women from the State of South Australia, as well as representatives from Melbourne, Perth and Brisbane, not only Orthodox Christians, but also catechumens and young people who were interested in learning more about Orthodoxy. It is noted that this was the first Youth Conference to be held in South Australia in over ten years.
The participants had the opportunity to communicate with each other, with their Shepherd Archbishop Makarios of Australia and with the Holy Clergy, to discuss issues that concern their generation, and benefit spiritually from the Christ-centred talks presented by the distinguished speakers.
At the beginning of the Conference, an Agiasmos Service was performed by His Eminence Archbishop Makarios of Australia, joined also by His Grace Bishop Silouan of Sinope, His Grace Bishop Emilianos of Meloa, and by the Abbot of the Holy Monastery of Saint John, Perth, Very Rev. Father Makarios. His Eminence Archbishop Makarios then delivered the keynote address, on the theme: "The Cross Remains While the World Changes". A fruitful discussion followed, during which the Archbishop received questions from the young people and appropriately answered their concerns and struggles.
After the keynote speech and the question-and-answer session, the young people were divided into age groups and participated in two interactive workshops. Speakers in these workshops were Clergy and their Presvyteres (Fr. Daniel and Presvytera Emilia Bradshaw and Father Jeremiah and Presvytera Joanna Krieg), as well as lay people (Matina Ravelo, Christos and Emilia Stampolidis, Dr. John Salaggaras, Efi Georgiadis, and Mellie Tantalos).
There was also a special meal, which was offered with much love by the Philoptochos Association of the Parish – Community of Prophet Elijah, while the highlight of the Conference was an open discussion of questions and answers, during which the young people submitted questions to Their Graces, Bishops Silouan and Emilianos, and to the Abbot Fr. Makarios.
After this edifying experience of fellowship in Christ and the strengthening of their ties with the holy Clergy and the Church, the members of the Central Youth "Saint Stephen the First Martyr" renewed their scheduling for the celebration of the memory of their Patron Saint, on December 27, 2022.