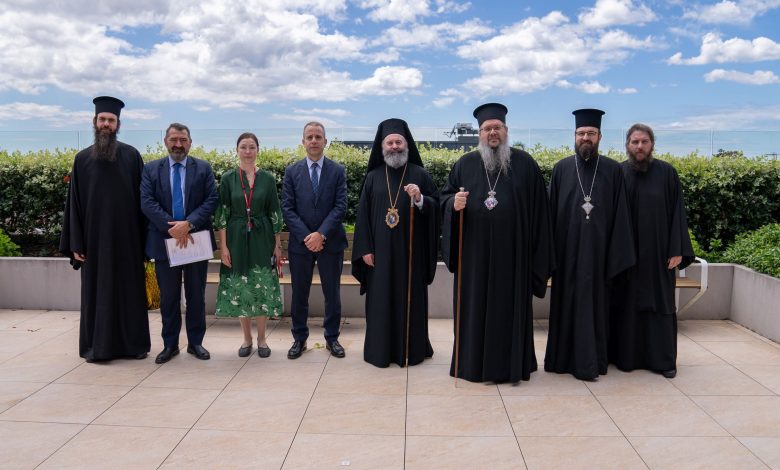 On Wednesday, 26 October 2022, His Eminence Metropolitan Ieronymos of Larissa and Tyrnavos visited the Saint Basil's Homes Aged Care Facility in the suburb of Randwick, Sydney, who is in Australia as part of his participation in the recent First Pan-Australian Clergy Synaxis.
His Eminence Metropolitan Ieronymos was accompanied by the Protosyncellus of the Holy Metropolis of Larissa and Tyrnavos, Archimandrite Very Rev. Father Ignatios Mourtzanos, while also present during the visit were the Chancellor of the Holy Archdiocese of Australia, Archimandrite of the Ecumenical Throne Very Rev. Father Christophoros Krikelis, Archdeacon Father Athenagoras Karakonstantakis, and the Consul General of Greece in Sydney, Mr. Ioannis Mallikourtis.
On behalf of the organisation's administration, the distinguished guests were welcomed by the President, Mr. James Jordan, together with members of the staff, followed by a tour of the facilities of the Aged Care Unit, starting with the holy Chapel that is honored in the name of Saint Paisios the Hagiorite.
Afterwards, the Metropolitan of Larissa and Tyrnavos had the opportunity to meet the staff of "Saint Basil's Homes", to be informed about the services provided by the Unit, but also to speak with its elderly residents themselves. He had a special meeting and an interesting discussion with Fr. Miltiadis Chryssavgis, a clergyman with many years of multifaceted ministry and service in the local Church of Australia.
At the end of the visit, Metropolitan Ieronymos expressed his satisfaction and praised the work being done in the "Saint Basil's Homes" Care Facility, while he congratulated the staff and wished God to bless and strengthen everyone, to fulfill their divine mission.