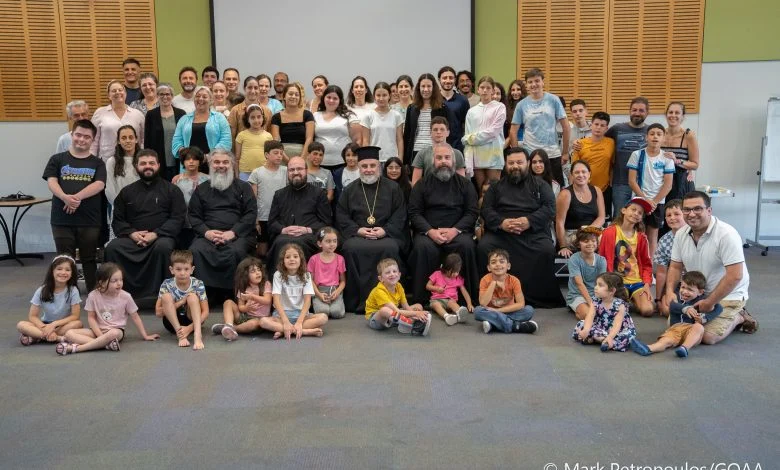 Parents and children who took part in the annual retreat organised by the Parish of the Annunciation of Our Lady, in the suburb of Redfern, Sydney, had the opportunity to experience a wonderful three days in a green landscape of particular natural beauty.
Young and old were accommodated in the modern facilities of the camping centre "The Tops Conference Centre", in the Stanwell Tops area, between the cities of Sydney and Wollongong.
For three days, from January 24 to 26, they followed a rich and exciting program of activities for physical well-being and spiritual benefit. Specifically, in addition to attending church services, their program included physical exercise activities, individual and group games, artistic workshops, interesting speeches and spiritual discussions.
Each day of the retreat, The Chancellor of the Holy Archdiocese of Australia and Parish Priest of the Holy Cathedral of the Annunciation of Our Lady, Archimandrite of the Ecumenical Throne Christophoros Krikelis was present and amongst his parishioners, while the camp was also visited by His Grace Bishop Elpidios of Kyanea and His Grace Bishop Iakovos of Miletoupolis, as well as clergymen of the Sydney Region, such as Father Peter Mavrommatis, Father Anastasios Bozikis, Father Dimitrios Papaoikonomou, Father Asterios Zouriakas and Father Timothy Klintsaris.
All the families expressed their excitement over the unique experiences they enjoyed during the three-day camp, and renewed their desire to hold the retreat for the same period in 2024. Those interested in having similar experiences by participating in next year's retreat, can contact the Parish Priest of the Cathedral, Archimandrite Christophoros Krikelis, or the Assisant Priest, Archimandrite Stefanos Tinikashvili.