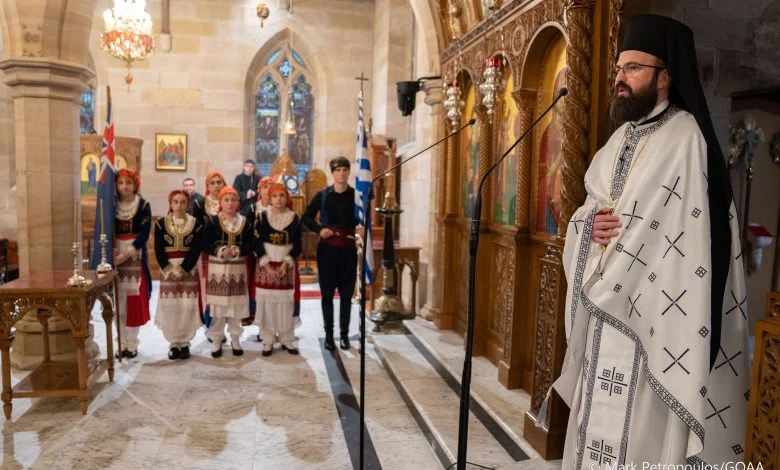 In an atmosphere of emotion and pride, the 156th Anniversary of the Arkadi Voluntary Sacrifice of 1866 was celebrated in Sydney on Sunday, 13 November 2022, and tribute was paid to the Heroes who fought and sacrificed for the liberation of Crete.
The annual event of memory and honour for the Holocaust of the Holy Monastery of Arkadi, organised by the Cretan Brotherhood of Sydney and New South Wales, took place at the Holy Cathedral of the Annunciation of the Theotokos, in Redfern, Sydney.
At the end of the Divine Liturgy, a Memorial Service was held for the repose of the souls of those who were heroically killed at the Holy Monastery of Arkadi, by Archimandrite of the Ecumenical Throne, Very Rev. Fr Christophoros Krikelis, Chancellor of the Holy Archdiocese of Australia and Proistamenos of the Cathedral, and joined also by Archimandrite Very Rev. Father Stefanos Tinikasvili.
Father Christophoros conveyed to all those present the wishes and blessing of His Eminence Archbishop Makarios of Australia, while he emphasised the value of preserving historical memory, so that the struggles of our ancestors in favour of faith and country become a signpost for the safe path of the younger generations.
The celebration of the Doxology followed, and then at the Cenotaph located in the courtyard of the Cathedral, Wreaths were laid by representatives of the Cretan Brotherhood of Sydney and New South Wales, the Cretan Federation of Australia and New Zealand, and the Youth of the Cretan Community.