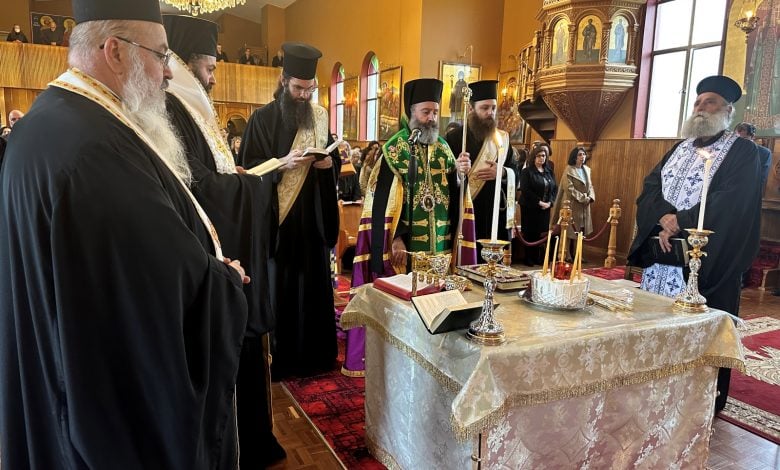 On Great and Holy Wednesday, 12 April 2023, His Eminence Archbishop Makarios of Australia conducted a Pastoral Visit to the Capital City of Australia, Canberra.
At the Holy Church of Saint Nicholas, His Eminence conducted the Sacrament of Holy Unction and then analysed theologically, in front of the large congregation, the importance and value of this holy Sacrament.
Among other things, he emphasised that the Sacrament of Holy Unction "reminds us that when we suffer, whether physically, emotionally or spiritually, Christ is present, he is among us to give us strength and to face life's challenges".
Moreover, His Eminence discerned that the value of the Sacrament is not limited to the individual level, but interests the Church as a whole. "When one member in the Church is sick, then the whole Church is sick", he noted and added: "The more members are healed, the healthier the Church Body is and the closer it is to the Kingdom of God."
Earlier, the Archbishop of Australia was warmly welcomed by His Grace Bishop Bartholomew of Charioupolis, Archiepiscopal Vicar of Canberra. His Grace Bishop Bartholomew, during his warm address, thanked His Eminence for his visit to the Australian Capital, despite his busy schedule, as well as for the constant care, affection and love he shows for all his rational flock and especially for the Greek Orthodox flock of Canberra.
In response, Archbishop Makarios assured everyone that they are constantly in his heart and thoughts, while he urged them to feel that the Archdiocese is their home and that the Archbishop is their father. He also wished them well for the rest of Holy Week and for the feast of Holy Pascha, while he also conveyed the wishes and blessings of His All-Holiness Ecumenical Patriarch Bartholomew.
Finally, His Eminence welcomed the presence of the Ambassador of Greece in Canberra, Mr. Georgios Papacostas, the High Commissioner of the Republic of Cyprus in Australia, Mr. Antonios Sammoutis, and the President of the Parish – Community of Saint Nicholas Canberra, Mr. John Loukadellis, to whom he wished well accordingly.