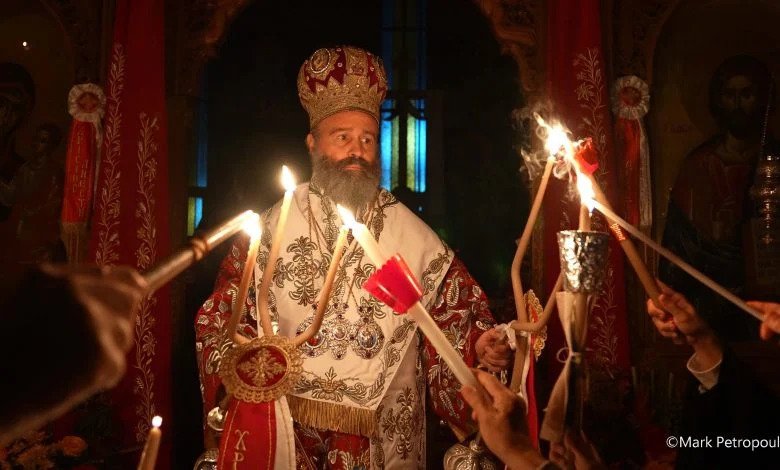 "Christ is risen from the dead…"! The hopeful message of the Lord's Resurrection was heard resoundingly in the "heart" of Sydney at midnight on April 15, in the Greek Orthodox Church of the Resurrection of Christ in the suburb of Kogarah.
In a deeply reverent atmosphere, His Eminence Archbishop Makarios of Australia officiated at the Service of the Resurrection and presided over the Festive Divine Liturgy,and was joined also by His Grace Bishop Christodoulos of Magnesia, Proistamenos of the Church of the Resurrection of Christ in Kogarah, and by other priests of the city of Sydney.
From the stage in front of the beautiful Church, His Eminence announced "Christ is Risen" to the thousands of Greek Orthodox who came reverently to celebrate the triumph of life over death. Among others present at the "Feast of Feasts" for Christianity were the Greek Australian Minister of State for Multiculturalism, Sport, Small Business and Property, Mr. Steve Kamper, as a representative of the Premier of New South Wales, Mr. Chris Minns, the Consul General of Greece in Sydney, Mr. Yannis Mallikourtis, with his wife, and Greek Australian businessman, Mr. Andrew Liveris.
His Eminence Archbishop Makarios, during the resurrection message  he delivered, underlined the message of joy and hope that the Resurrection of the Lord signifies for the Orthodox. "Today the cry of humanity is heard that "the Lord is risen", to save the world and give true joy", he emphasised, while asking and urging everyone to keep the joy of the Resurrection in their lives, as well as to convince the people around them that they should rejoice. "Because where there is a lack of joy, there God is absent, there the experience of Resurrection is absent", he concluded.