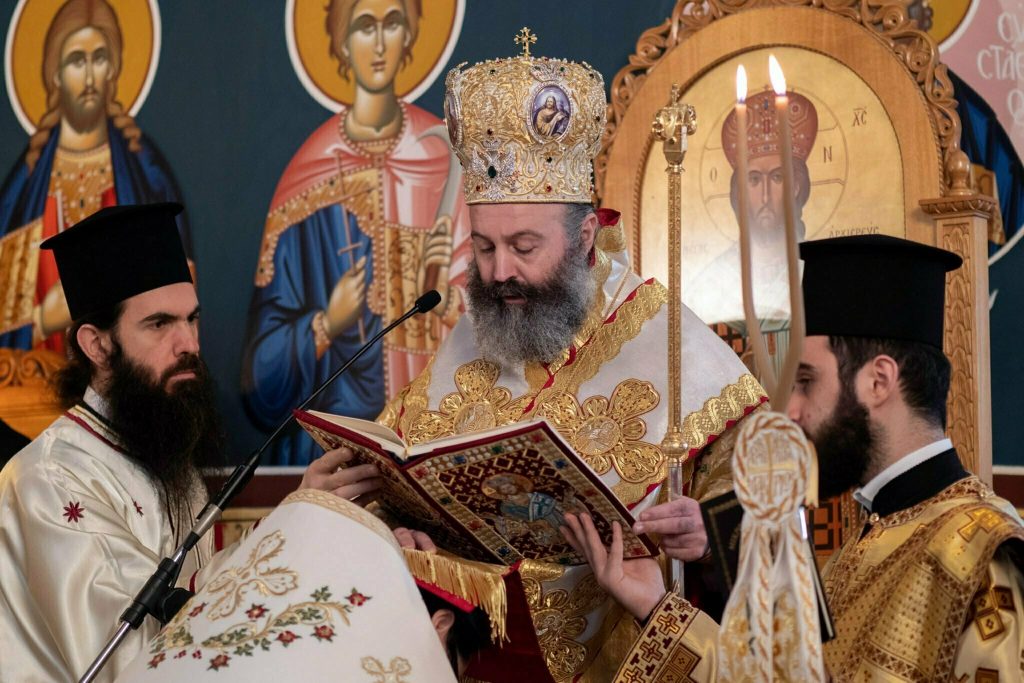 His Eminence Archbishop Makarios of Australia issued a message of unity on the occasion of the celebration of the memory of the Holy Fathers of the First Ecumenical Council.
On Sunday, 31 May, which was dedicated to the memory of the 318 Holy Fathers who took part in the Ecumenical Council of Nicaea and who struggled to ensure our Church remained united, His Eminence Archbishop Makarios officiated at the Parish of St Catherine's in Mascot, Sydney, where he also elevated the parish priest Fr Athanasios Giatsios to the rank of Protopresbyter.
His Eminence spoke warmly and praised the character and the long-term contribution of Fr Athanasios to the Church, while he did not hide his regret that, due to the restrictive measures imposed to prevent the spread of the Coronavirus, the parishioners of St Catherine's were deprived of the opportunity to be present for this significant milestone for their parish priest and to call out, together, "Worthy". He said, however, that he was certain that "they are mentally present and they feel the joy and the blessing that the Church is today bestowing upon you." Finally, he directed paternal instructions to Fr Athanasios, urging him to follow in the footsteps of the Fathers who participated in the First Ecumenical Council, to imitate their determination and, above all, to imitate their example by struggling for unity.
In his sermon, His Eminence analysed the Gospel passage that was read during the Divine Liturgy and focused on the phrase, "Holy Father, keep them in your name, which you have given me, that they may be one, even as we are one" in order to make the point that, with these words, Christ asked from God that the Apostles remain united, who were the first nucleus of the Orthodox Church and, consequently, to keep all Orthodox Christians united. His Eminence pointed out that our Church has not chosen these words to be read by chance on the day that we honour the memory of the 318 Holy Fathers, who struggled for the preservation of unity during the First Ecumenical Council. "Our Church has very correctly assigned this Gospel passage in order to present Christ's last words before His Crucifixion that refer to love and unity," His Eminence said and, in closing his sermon, he pointed out, "Because, my dear brethren, history teaches us that, many times, we Greeks are not united. Today's Gospel account gives us this message and constitutes a challenge for all of us. Let us not forget that if we are to be strong, we must be united and have Christ and His holy Church at the centre."