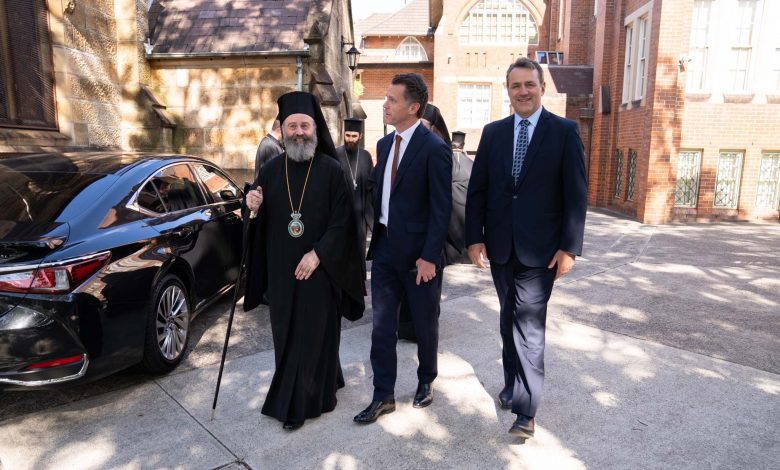 On Friday, 2 November 2022, the leader of the Opposition Party in the New South Wales State Parliament, Mr. Chris Minns MP, and Greek-Australian Labor MP, Shadow Minister for Small Business, Property and Multiculturalism, Mr. Steve Kamper, visited the Headquarters of the Holy Archdiocese of Australia, in Sydney.
The distinguished guests were welcomed by His Eminence Archbishop Makarios of Australia, joined also by His Grace Bishop Bartholomew of Charioupolis, The Chancellor of the Holy Archdiocese, Archimandrite of the Ecumenical Throne Christophoros Krikelis, The Director of the Personal Office of the Archbishop, Archimandrite Amphilohios Papantoniou, Archimandrite Stephanos Tinikashvili, Archdeacon Father Athenagoras and Deacon Father Timotheos.
A meeting followed in the Archbishop's office, where issues concerning the Greek Orthodox Community and the local Church were discussed in a cordial atmosphere.
In the context of the meeting, His Eminence presented the pioneering project under the title "Our People, Their Ttories", implemented by the Holy Archdiocese of Australia, for which Mr. Minns and Mr. Kamper expressed very positive impressions and stated their intention to support every effort, like this particular one, which highlights the history of Hellenism in the Antipodes and the multicultural character of Australia. In addition, the visitors had the opportunity to see the plans of the new Archdiocese, which include the Museum of The Greek Expatriates in Australia, as well as other common areas that will be offered to the public.
For his part, His Eminence Archbishop Makarios wished both of them every good strength and success in their work, while the visit concluded with a guided tour of the historic building of the Holy Cathedral of the Annunciation of Our Lady and the other premises of the Holy Archdiocese.