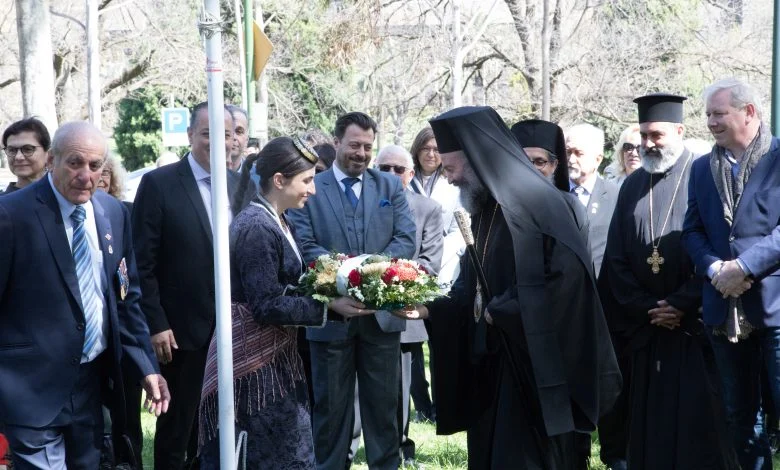 On Saturday, September 24, the first day of his pastoral visit to Melbourne, His Eminence Archbishop Makarios of Australia visited the Australian-Greek Memorial located in the Domain Gardens and held a Memorial Service for the repose of the victims of the Asia Minor Catastrophe. In the context of the event, which was organised by the Australian-Hellenic Memorial Foundation on the occasion of the centenary of the Asia Minor Disaster, the Greeks and Australians who sacrificed themselves during the two World Wars were also commemorated.
His Eminence Archbishop Makarios, who was accompanied by the Archepiscopal Vicar of Melbourne, His Grace Bishop Kyriakos of Sozopolis, first expressed his emotion for the opportunity he was given to visit for the first time the specific Memorial, a sacred space which completes 21 years of life. After thanking the organisers for the invitation, he emphasised the strong ties between Greece and Australia, bonds forged on the battlefields of their common struggles for freedom, democracy and peace.
During the event, the Consul General of Greece in Melbourne, Mr. Emmanuel Kakavelakis, also delivered an important speech. Also present were representatives of the Australian Authorities and the Greek Community, including: The Federal Member of Parliament, Mrs. Maria Vamvakinou, representing the  rime Minister of Australia Mr. Anthony Albanese, State MP Ms Nina Taylor, representing the Victorian Minister for Multiculturalism, Ros Spence, the Victorian Shadow Finance Minister Mr David Davis, representing the Leader of the State Opposition Mr Matthew Guy, the Mayor of Kingston, Mr. Steve Staikos, the President of the Intercommunity Council of Victoria, Mr. Antonios Tsourdalakis, amongst others.