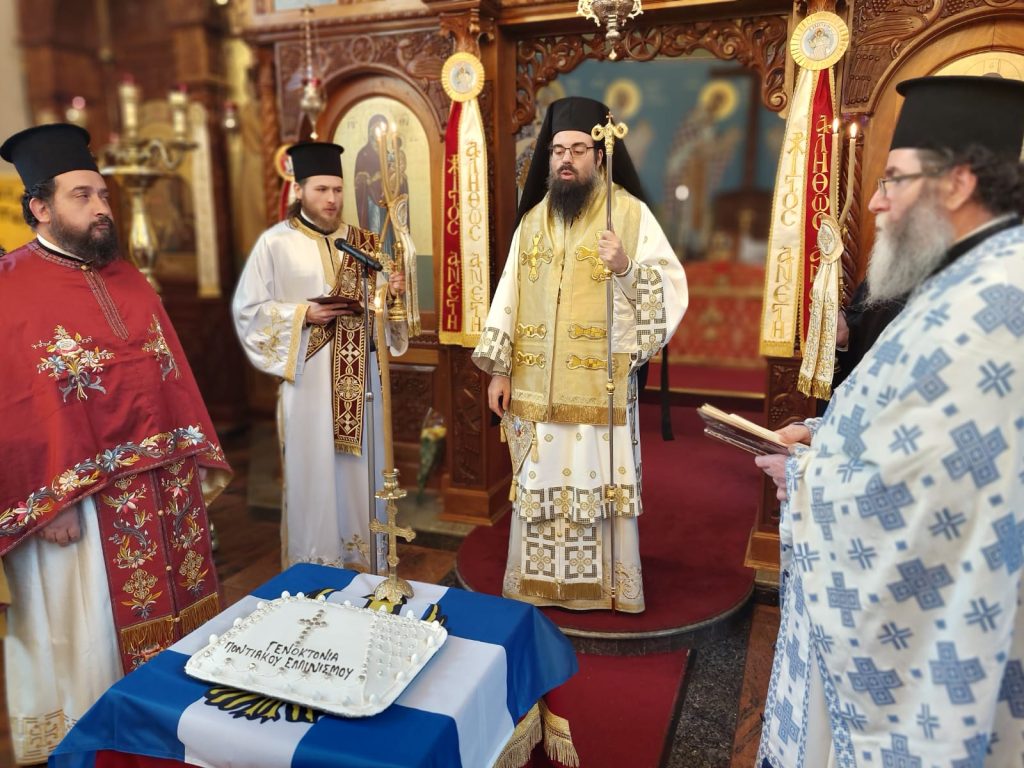 On Friday, May 19, the day of commemoration of the Genocide of the Pontic Greeks, at the Archdiocesan Church "Axion Esti" in Northcote, Victoria, a holy service of Remembrance was held, after the Divine Liturgy, for the repose of the souls of all the victims of the Genocide. The Archiepiscopcal Vicar of Northcote, His Grace Bishop Evmenios of Kerasunta, presided over the divine liturgy and memorial service, representing His Eminence Archbishop Makarios of Australia, while the Archiepiscopal Vicar of Melbourne, His Grace Bishop Kyriakos of Sozopolis was also present joint in prayer.
At the end of the Memorial, His Grace Bishop Evmenios read the message of His Eminence Archbishop Makarios for the day of remembrance of the Genocide, and conveyed his blessing to the congregation. In addition, His Grace Bishop Evmenios recalled the decisive role played by the Ecumenical Patriarchate in preserving the monuments of Orthodoxy in Pontus, making special mention of the great fight personally given by His All-Holiness Ecumenical Patriarch Bartholomew in order to celebrate the Divine Liturgy at the historic monastery of Panagia Soumela in Trebizond. Finally, he referred to a blessed tradition maintained by His All-Holiness, of giving the Bishops of the Ecumenical Throne titles of the formerly-renowned Bishoprics of Pontus, a fact which, as he pointed out, contributes to the strengthening of the historical memory and the ties of the youth with the native land of Pontus.
Present at the Divine Liturgy and the Holy Memorial Service were the Chief of Staff of the General Staff of the National Defence of Greece, Lieutenant General Mr. Georgios Kyriakou, and the Admiral of the Navy Mr. Stylianos Mitsiotis, members of a delegation of the Hellenic Armed Forces visiting Australia on the occasion of the 82nd Anniversary of the Battle of Crete, as well as the Permanent Military Attaché of the Greek Embassy in Australia, Colonel Mr. Ioannis Fassianos, the Deputy Consul of the Consulate General of Greece in Melbourne, Ms. Georgia Botsiou, as a representative of the Consul General Mr. Emmanuel Kakavelakis, representatives of Pontian associations of the State of Victoria and delegations of students from St. John's College Preston and from "Oakleigh Grammar" school.