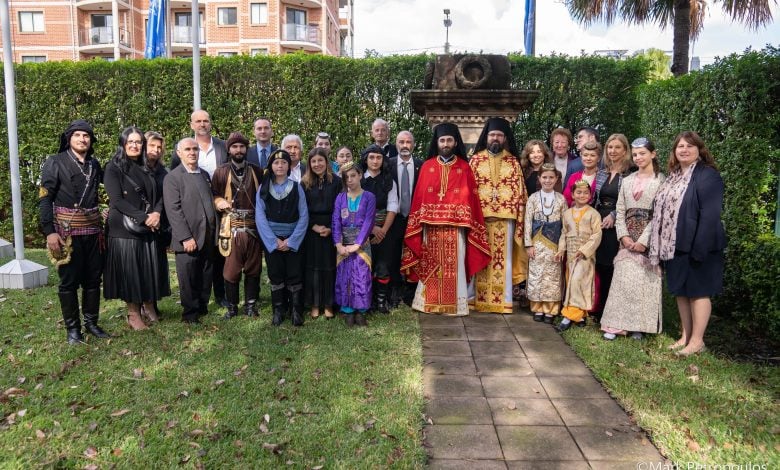 On the Sunday of the Samaritan woman, 14 May 2023, at the Cathedral of the Annunciation of Our Lady in Sydney, after the Matins and Divine Liturgy, a Memory Service for the repose of the souls of the victims of the Genocide of the Greeks of Pontus was held by Archimandrite of the Ecumenical Throne Christophoros Krikelis, Chancellor of the Holy Archdiocese of Australia and Parish Priest of the Cathedral.
The head of the Office of Public Diplomacy at the Consulate General of Greece in Sydney, Mr. Konstantinos Giannakodimos, was present as a representative of the Consul General, Mr. Yannis Mallikourtis, the Greek Australian Minister of State for Labor Relations and Occupational Health & Safety, Ms. Sophie Kotsis, as a representative of the Premier of New South Wales, Mr. Chris Minns, and representatives of Pontian and other Greek-Australian organisations and associations.
In his short speech, Father Christophoros, after conveying the blessings of His Eminence Archbishop Makarios of Australia, emphasised the need to preserve historical memory, in order to ensure that the younger generations will never forget the historical events of the Genocide and the uprooting of the Pontians from their ancestral homes, as well as the culture, traditions and values of Pontic Hellenism.
Afterwards, wreaths were laid at the Memorial of the Fallen located in the courtyard of the Holy Cathedral.