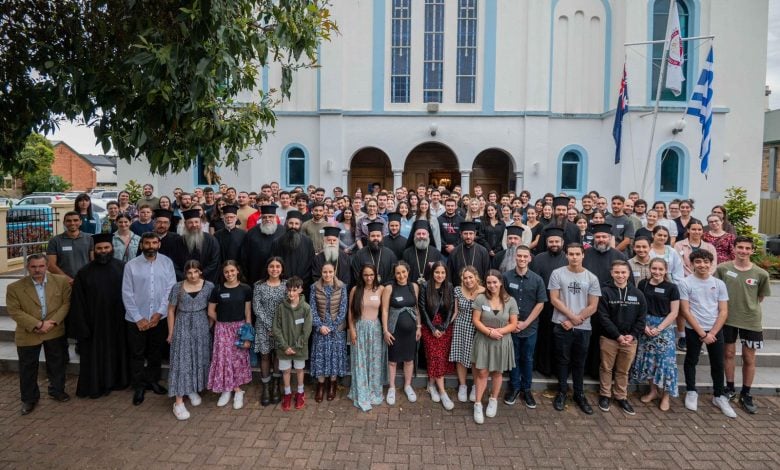 On Friday morning, November 25, His Eminence Archbishop Makarios of Australia arrived in Adelaide, and will remain for six days in South Australia, in order to communicate with the Greek Orthodox flock of the State, to participate and speak at the State Youth Conference, to perform three ordinations of new clergy, to celebrate the opening of the new Archdiocese Church in Adelaide and to preside over the feast of Saint Andrew the First-called Apostle.
At the airport of Adelaide, His Eminence Archbishop Makarios was received by the Archdiocesan Vicar of Adelaide, His Grace Bishop Silouan of Sinope, and several clergy and laity, who wanted to express their joy for the visit of their Shpeherd to the "City of Churches".
Afterwards, the Archbishop held scheduled meetings at the offices of the Archdiocese in Adelaide, while in the afternoon he attended an event of the Chanters and Teachers of the School of Byzantine Music, which he founded in 2020.
Emotion prevailed when the young children sang hymns in front of their Archbishop, while the presence of the teacher of all the current chantors of Adelaide, Mr. Elias Fragoulis, gave the Archbishop the occasion to express the satisfaction and gratitude of the local Church to his humble person. In addition, His Eminence emphasised "that Orthodox chanting helps us to understand our faith and our theology, and subsequently this understanding gives us the possibility for spiritual progress and advancement". "While everything seemed to indicate that there would cease to be chanters and that our chanting stands would be silenced," he continued, "the School of Byzantine Music gave many young people the opportunity to start learning and be introduced to the music of our Church. So we have hope that we will move forward and that the future is ours."
In his speech, the Directing Teacher of the School of Byzantine Music, Mr. Nikolaos Pyris, presented the work of the School and the student classes. He thanked, with warm words, His Eminence Archbishop Makarios for his support of church music and especially for his care to establish the School, which has 40 students in Adelaide alone.
After the presentation of hymns by all the groups of the School, lunch and spiritual discussion followed.