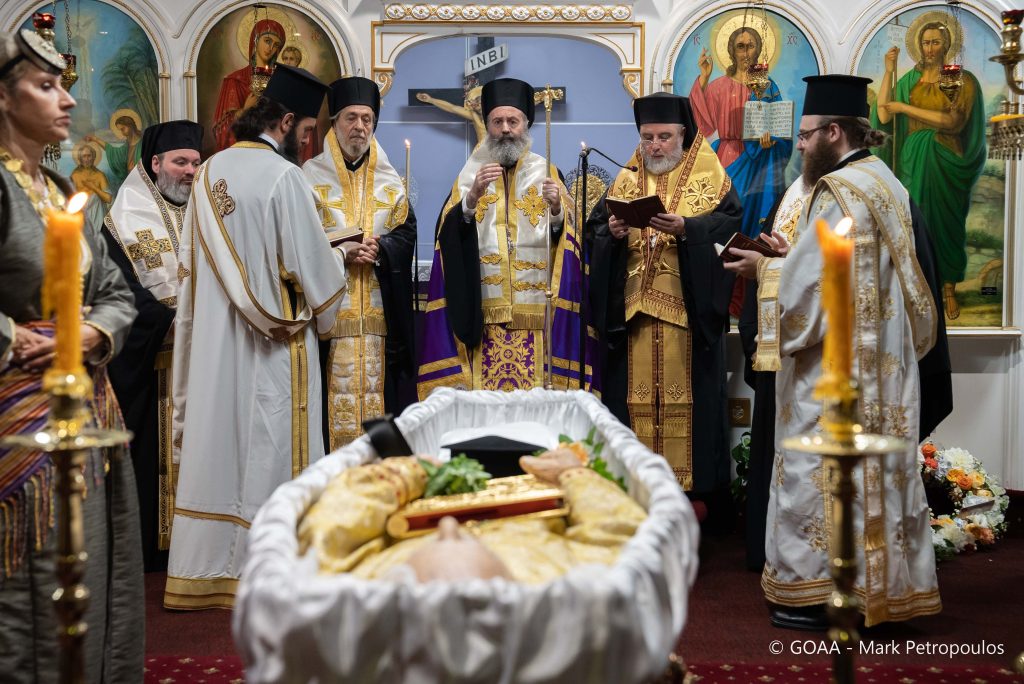 On Wednesday, 1 March 2023, at the Holy Church of Saint Ioannis, in Parramatta, Sydney, in an atmosphere of deep emotion, the funeral service of the late Protopresbyter of the Ecumenical Throne Nicholas Tsouloukidis took place.
His Eminence Archbishop Makarios of Australia presided over the funeral service, joined also by Metropolitan Seraphim of Sevasteia, Their Graces, Bishop Iakovos of Miletoupolis, Bishop Christodoulos of Magnesia, Bishop Bartholomew of Charioupolis, and by a multitude of clergy from the city of Sydney.
Crowds of faithful flocked to the church to reverence the body of the late clergyman, who had faithfully served the Parramatta Parish-Community from 1960 when he arrived in Australia until his retirement in 2008.
His Eminence Archbishop Makarios pointed out with emotion, during the Eulogy he delivered, that the Holy Archdiocese of Australia is grieving in a personal way for the great spiritual loss, for a clergyman who served the local Church for almost half a century, with a lot of love, self-sacrifice and above all ecclesiastical ethos. "Each person in this life writes his own history", he noted, "and if we study the life of Fr. Nicholas, he indeed wrote his own history, according to the confession of many in golden letters".
His Eminence particularly focused on the fact that the late Protopresbyter walked throughout his life and ministry with dignity, self-denial, without ego – yet with "ecclesiastical nobility", as he characteristically pointed out – surrounding with respect and trust, the new generation, who have undertaken to continue his work after his retirement. "We all bow down before Fr. Nicholas, for his contribution, for his love, for his morals, for the ecclesiastical nobility and dignity he had," His Eminence added.
Repeating that the Holy Archdiocese of Australia became poorer after the passing away of Fr. Nicholas Tsouloukidis, he wished God to rest his soul with the saints and the righteous, while conveying the condolences of His All-Holiness Ecumenical Patriarch Bartholomew to Fr. Nicholas' two daughters, as well as to his other relatives and friends and to all the members of the Parish – Community of St. Ioannis, Parramatta.
It is noted also that eulogies were also offered by Metropolitan Seraphim of Sevasteia and His Grace Bishop Iakovos of Miletoupolis.
After the conclusion of the funeral service, the burial service of the blessed cleric took place at Rookwood Cemetery, Sydney.