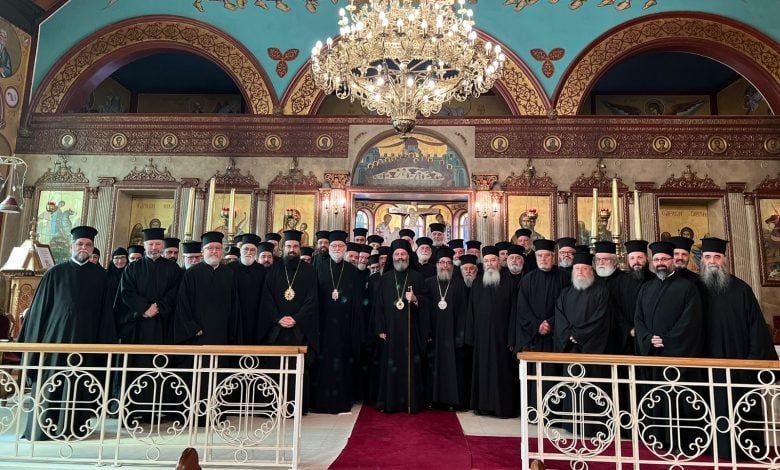 On Saturday, 18 March 2023, at the premises of the Holy Archdiocese of Australia in Melbourne, with great success and spiritual benefit, the Clergy Synaxis of the clergy of the Archdiocesan Districts of Melbourne and Northcote was held, presided over by His Eminence Archbishop Makarios of Australia. Also present for the Synaxis, in addition to the clergy of the two districts, were Metropolitan Ezekiel of Dervis and His Grace Bishop Kyriakos of Sozopolis and His Grace Bishop Evmenios of Kerasounta.
His Eminence Archbishop Makarios, after the opening prayer, made an introductory reference to Orthodox monasticism, as it is experienced in the world centre of monasticism which is Mount Athos, on the occasion of the presence in Australia, during this period, of Hieromonk Antipas Hagiorite, Elder of the cell of Saint Anna. After welcoming the visiting Hagiorite Hieromonk, he offered him to make some remarks, and Fr. Antipas, with great theological simplicity and clarity, spoke about the unity of the Church and the various zealous tendencies that arise from time to time, which usually lead the faithful outside of the Church.
More specifically, Fr. Antipas spoke about secularisation within the Church, which essentially constitutes the driving force for the personal autonomy of each clergy and lay person, and presented many Holy Canons that prohibit autonomous separation from the body of the Church. Father Antipas pointed out: "Many times, some people tell us to leave the Church, because such and such a Bishop is a heretic or what he does is not Orthodox. It is important thus, to know what is heretical and what is not, the Church will tell us and not every monk and every wandering layman. That is why, listen to the voice of the Church and your Archbishop. The zealous voices have a foul smell. All zealous literature reek, because instead of leading people to salvation, they lead them outside the Church. And there is no salvation outside the Church."
After the introduction by Fr. Antipas, a dialogue with the clergy followed, and finally a morning tea for all who were present.