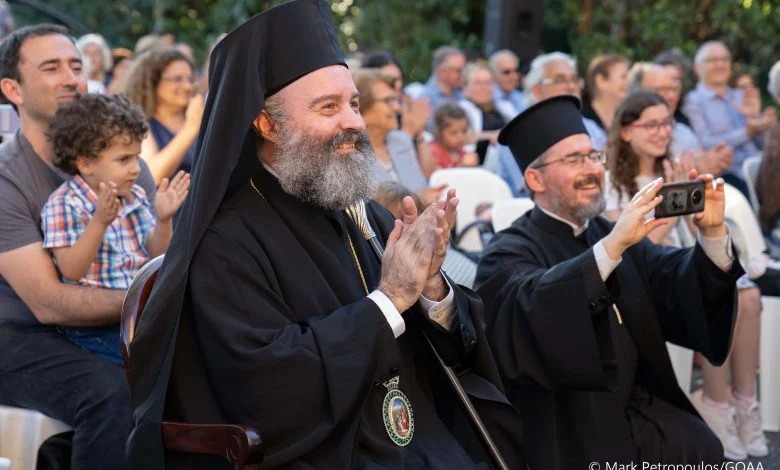 A feast of sounds and melodies, in a festive and solemn atmosphere, was enjoyed by the large audience of the event: "Christmas and New Year's Carols", organised by the Holy Archdiocese of Australia in Sydney.
The spiritual event – institution, for the local Church and the Greek Community, was hosted in the courtyard of the Cathedral of the Annunciation of Our Lady in the suburb of Redfern. The rich program of the event was attended by priests from the city of Sydney, Chanters, students from Greek Orthodox schools, as well as choirs from parishes and communities and Greek community organisations.
Both young and old gave their best, presenting ecclesiastical hymns, traditional Christmas and New Year carols from every corner of Greece, Christmas songs accompanied by traditional instruments, as well as Australian Christmas carols. They moved the audience both with their voices and with the passion of their performances, so that they deservedly received the warm applause of the audience, among whom were His Eminence Archbishop Makarios of Australia, His Grace Bishop Iakovos of Miletoupolis, His Grace Bishop Christodoulos of Magnesia and His Grace Bishop Bartholomew of Charioupolis, as well as the Chancellor of the Holy Archdiocese Archimandrite of the Ecumenical Throne Christophoros Krikelis.
In his closing address, His Eminence Archbishop Makarios of Australia congratulated all the participants of the event and thanked them for the very beautiful moments they offered to the audience. Emphasising the dynamic presence of the youth, he discerned with paternal satisfaction that this proves the young people's great love for Christ and that they have Him as a priority in their lives. At the same time, His Eminence expressed the belief that the future of the Orthodox Church and the Greek Community in Australia is in good hands.
"Our children are the present and the future of our Greek Community and our Archdiocese," he emphasised. "We must be very optimistic and praise God that we have these children," he pointed out, among other things, thanking them warmly for the time they devoted to the preparation and their participation in the event and for the effort they put in to present the best possible outcome.
In accordance with the performers' initiative to express their love and respect for their Shepherd through small variations in the lyrics of the songs, His Eminence expressed his satisfaction with the loving and unifying spirit that prevails within the local Church of Australia. "It shows that we all feel that we are one family," he remarked. "And it pleases me, it comforts me and I bless you," he added, "when you have this feeling, that united, with Christ before us, we move forward."
Concluding his speech, the Archbishop wished everyone, contributors and spectators, many happy and blessed years, while he invited them to another spiritual gathering, the cutting of the Vasilopita of the Holy Archdiocese, which will take place in the Cathedral of the Annunciation of Our Lady, on Monday, 2 January 2023 at 6:30 p.m.