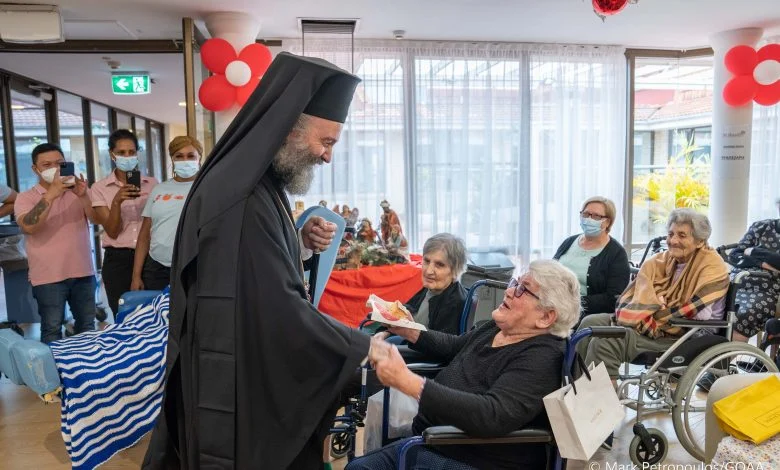 On the last day of the year of 2022, and on the eve of the feast of Saint Basil the Great, His Eminence Archbishop Makarios of Australia wishing to share the day with our valuable elderly citizens, made a special visit to the residents at the Saint Basil's Aged Care Facility in the Sydney suburb of Lakemba.
At the premises of this particular Aged Care Facility there is a Holy Chapel, which honours the name of the Patron of the philanthropic organisation of the Holy Archdiocese of Australia. In this Chapel, the festive great vespers on the occasion of the feast of Saint Basil the Great, which were officiated by His Eminence Archbishop Makarios of Australia, took place. Present also, joined in prayer were Their Graces, Bishop Iakovos of Miletoupolis and Bishop Bartholomew of Charioupolis, clergy from the city of Sydney, residents of the facility, members of the staff and members of the management of "Saint Basil's", including the Chairman of Board of Directors Mr. James Jordan and the Vice-President Mr. Theo Penklis, as well as the Consul General of Greece in Sydney, Mr. Yannis Mallikourtis, and the State Member of Parliament, Ms. Sofia Kotsis.
After the end of Vespers, in a modest familial gathering, His Eminence Archbishop Makarios blessed and cut the "Vasilopita" for the officials, staff and residents of the Lakemba facility, to whom he extended heartfelt paternal wishes for the arrival of the new year of 2023.
His Eminence Archbishop Makarios also warmly thanked all those who contribute to the success of the noble mission of the philanthropic organisation, making special mention of the quiet but excellent work carried out by His Grace Bishop Iakovos of Miletoupolis as head and guide on pastoral and spiritual matters in the Saint Basil's facilities of Sydney.
Then, His Eminence Archbishop Makarios focused his address on the person and work of Saint Basil the Great, recalling that, despite his short earthly life, he accomplished great work for the Church of Christ and for the people of God. His Eminence referred to the saint's philanthropic work, with the establishment of the group of holy institutions named "Vasileiada", for the care of the poor, the sick and the elderly, as well as the Saint's rich and invaluable theological work.
Finally, the Archbishop of Australia wished that the new year may be better for everyone than the outgoing 2022. Better not necessarily in material goods, but mainly in spirituality and holiness, as he pointed out. "Spirituality and holiness are what are absent from the modern world and the modern person," he made mention, among other things, and concluded with a paternal exhortation, saying: "Let us all try to become better people, more spiritual people, holier people. Because each of us make up a part of this world and, if we improve ourselves, then we simultaneously improve a part of the world."