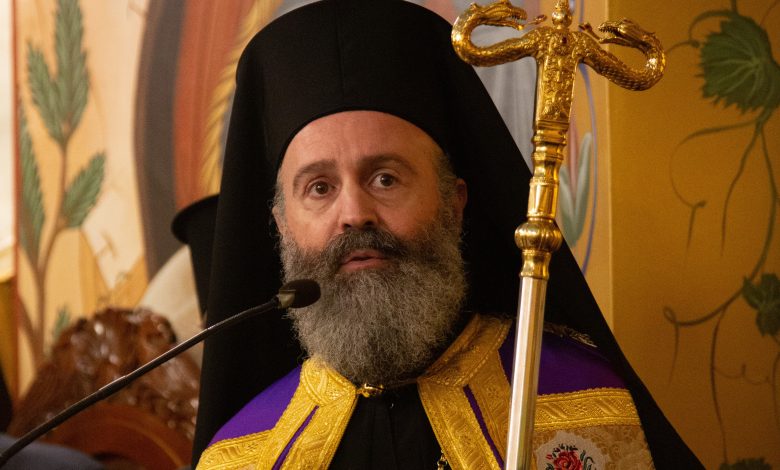 As part of his pastoral tour in Victoria, on Friday, 17 March 2023, His Eminence Archbishop Makarios of Australia visited the Church of the Holy Cross, in Box Hill, Melbourne, and officiated at the service of the Third Stanza of the Salutations to the Theotokos.
In a crowded church, His Eminence spoke appropriately about the holy character of the Virgin Mary, "who constitutes the greatest ambassador of humanity in heaven", as he underlined. He focused, among other things, on her obedience to God's will and pointed out that, thanks to this attitude, she "changed the course of history."
In addition, His Eminence referred to the upcoming feast of the Veneration of the Cross, during the Third Sunday of Lent, which, not by chance, has been placed by our Church in the middle of Great and Holy Lent. The Archbishop first reminded that through the veneration of the Holy Cross, the faithful are strengthened to continue their spiritual struggle until the Resurrection.
Next, he pointed out that the cross is present in all aspects of our lives, even in the sorrows and trials we face every day. But he emphasised that "the closer we are to Christ, the lighter our cross is". His Eminence encouraged all to "lift up our cross ungrudgingly" and, having fervent faith, every time we are about to fall, to raise our heads again and move forward. "This cross will lead us to salvation," he added.
Concluding, His Eminence Archbishop Makarios expressed his joy for this first time that he had the opportunity to officiate at the Church of the Holy Cross, in Box Hill, and thanked the Parish Priest, Father Dionysios Rallis, for their kind hospitality.
It is also noted that Metropolitan Ezekiel of Dervis, His Grace Bishop Kyriakos of Sozopolis and His Grace Bishop Evmenios of Kerasounta, along with a multitude of clergy from the Archdiocesan District of Melbourne participated also in the Service of the Salutations to the Theotokos.