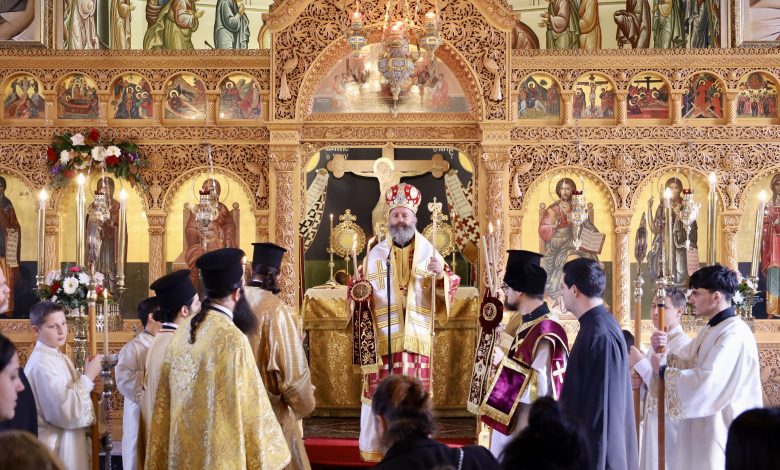 Let us give Christ to our children and defend our faith with courage, were the two central messages emphasised by His Eminence Archbishop Makarios Australia, before the faithful of the Parish of Saint Paraskevi, Blacktown in Sydney, where His Eminence officiated on Sunday morning, July 31, commemorating the memory of the Patron Saint of the Parish, Saint Paraskevi the Great-Martyr, and the memory of Saint Joseph of Arimathea.
Speaking to a crowded church, His Eminence presented and analysed points from the lives of the two Saints, which are worthy of exemplification by modern Christians.
As for Saint Paraskevi, He focused especially on the upbringing given to her by her pious parents, who, although they were financially comfortable, they suggested the need to secure for their daughter the most precious of all treasures, that is, to know Christ and acquire a Christian education.
Addressing the parents and grandparents who were among the congregation, the Archbishop of Australia fatherly urged them to imitate this example and to pass on to the young people their love for Christ". "Christ is the one who will strengthen them", he pointed out, "but above all he will shape their heart and conscience".
Referring to Saint Joseph of Arimathea, whose memory is commemorated by our Church on July 31, His Eminence Archbishop Makarios of Australia spoke of a great Saint, who was a secret disciple of Christ, and recalled that he was the one who, together with Nicodemus, took down from the Cross and buried the Lord's body with great respect.
In fact, he emphasised the fact that Joseph, when all the others had disappeared after the Crucifixion, he found the courage to turn to Pilate and ask him for permission to receive the body of the Crucified Lord. This courage, as he pointed out, is an example for everyone to emulate in the modern era, so that they can resist the demands of the secularised society and defend the faith, values ​​and traditions of our Church.
"When we live this particular way of life, there will be times when we will feel completely alone, just as Joseph felt," remarked the Archbishop, to underline, however, that this is necessary to live the spiritual life.
"Don't forget that as dark as the sky may be, the brighter the stars shine and the more easily we can see them. This is exactly what happens in the spiritual life", added His Eminence Archbishop Makarios, while he concluded his speech with heartfelt paternal prayers and wishes to the administration, clergy and faithful of the Parish – Community of Saint Paraskevi, Blacktown.