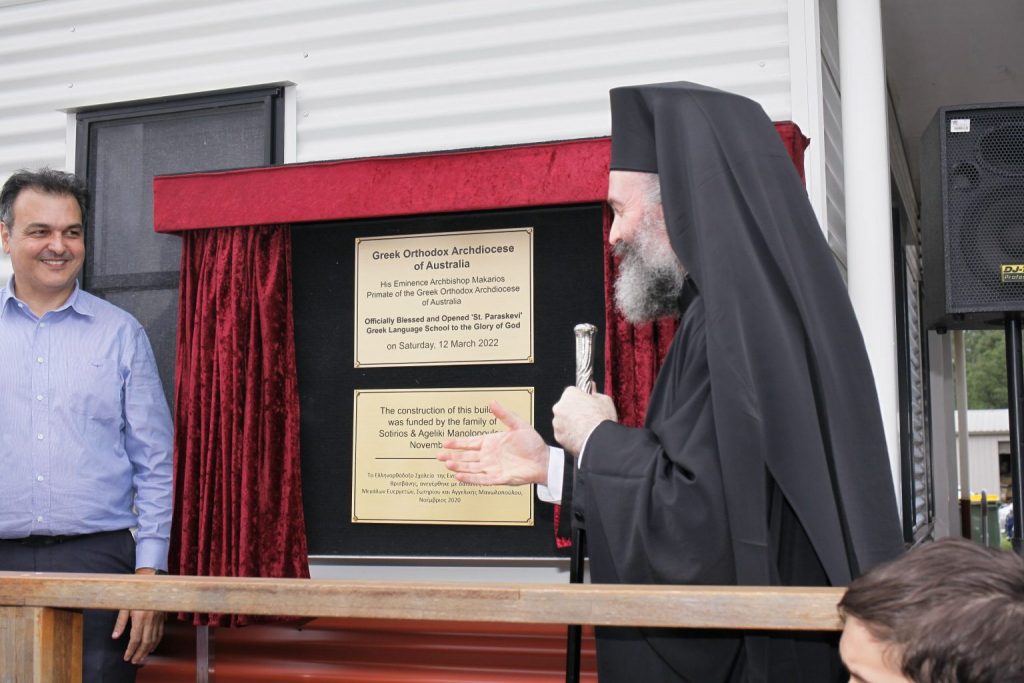 A School for the Learning of the Greek Language was inaugurated on Saturday, March 12, by His Eminence Archbishop Makarios of Australia in Brisbane. Specifically, the school operates on the premises of the Parish of Saint Paraskevi, Taigum, while its foundation was launched two years ago, during the first pastoral visit of the Archbishop of Australia in Queensland.
The school was founded with the encouragement and vision of His Eminence and was completed with the kind donation of the couple Mr Sotirios and Mrs Angeliki Manolopoulos and with the care of the President of the Parish, Mr. Costa Stratikopoulos.
The school immediately enrolled 110 young children, who are ready to learn with enthusiasm and zeal the language of their ancestors. This shows the need that existed in the area for learning the Greek language. His Eminence Archbishop Makarios of Australia during his speech at the opening ceremony, thanked all those who contributed to the completion of this project, wished a blessed beginning and enlightenment to teachers and students, while thanking parents who ensure that their children learn the Greek Language.
"We have all the possibilities now, so that our children can learn Greek. It is the language of our ancestors, which is one of the oldest in the world and in use for 5,000 years. The Greek language is the one that was used to convey the message of the Gospel to the world, it is the language of philosophy and science, it is the language of our history and culture. You will become stronger and you will have more to offer to society ", His Eminence emphasised to the new students.
This was followed by a tour of the Archbishop and his entourage in the new teaching rooms and other associated spaces of the school.
Present at the ceremony were the Their Graces, Bishio Iakovos of Miletoupolis and Bishop Emilianos of Meloa, the Protosyggellos of the Holy Archdiocese of Australia Very Rev. Fr. Christoforos Krikelis, the Abbot of the Holy Monastery of Saint George at Yellow Rock, Very Rev. Fr Ieronymos Voultsidis, Archimandrite of the Ecumenical Throne, and on behalf of the State, the Minister of Tourism, Innovation and Sports, Mr. Stirling Hinchliffe, and the Federal Member, Mrs. Anika Wells.
After the Agiasmos service, a memorial plaque was unveiled and a festive meal followed.