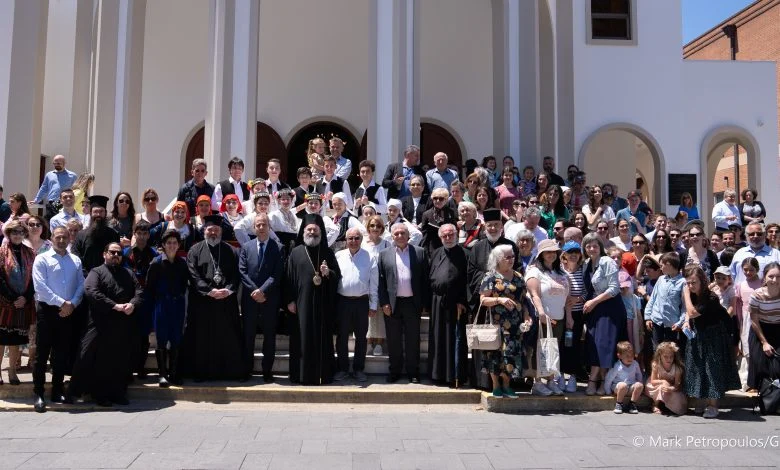 A pastoral visit to the Parish-Community of the Resurrection of Christ, in the Kogarah of Sydney, took place on Sunday, November 6, by His Eminence Archbishop Makarios of Australia. His Eminence officiated over the Divine Liturgy on the feast day of St. Paul the Confessor, Archbishop of Constantinople, and then participated in the 46th 'Walkathon' organised by the Greek Welfare Centre.
The 'Walkathon' is an annual event, with walking as the central activity, and aims to raise money to support the God-pleasing work carried out by the Charitable Organisation of the Holy Archdiocese of Australia. Among the crowd of participants in the walk, led by His Eminence Archbishop Makarios, was His Grace Bishop Christodoulos of Magnesia, the Consul General of Greece in Sydney, Mr. Yannis Mallikourtis, the President of the Greek Welfare Centre, Mr. Angelos Hatziatouris, and the Director of the Organisation, Mr. Steve Magdalopoulos.
Everyone together, after completing the walk, followed the festive program of the 'Walkathon' event, which included traditional Greek songs and dances, food, as well as many surprises and gifts for both the young and old. His Eminence congratulated and warmly thanked the volunteers and all the supporters of the event, which raised the sum of $72,000 dollars, to meet the needs of our fellow human beings who are in need and who are supported by the Greek Welfare Centre.
Earlier on, during the Divine Liturgy, the Archbishop spoke to the congregation about the value of keeping Christ at the center of our lives, analysing the words of the Apostle Paul: "It is not I who live, but Christ who lives in me".
Afterwards, His Eminence wholeheartedly welcomed Father Damaskinos, monk of the Holy Monastery of Xenophon of Mount Athos and Lecturer at the University of Eastern Finland, who is originally from Finland, where His Eminence had visited as Exarch of the Ecumenical Patriarchate and had worked exemplary with him on issues concerning the local Church.
At the Archbishop's request, Father Damaskinos analysed the Gospel reading of the day, through which the Evangelist Luke presented two miracles of Christ: the resurrection of Jairus' daughter and the healing of the woman with the issue of blood. Addressing the believers, he exhorted them on the one hand to pray with strong and unshakable faith and on the other hand to look forward toward eternal life, which is the real and most substantial reward of those who believe in God with all their hearts.
At the end of the Divine Liturgy, His Eminence Archbishop Makarios of Australia offered honorary diplomas to children who participated in the preschool care program of the Greek Welfare Centre, who from the new year will start their studies in Kindergarten.