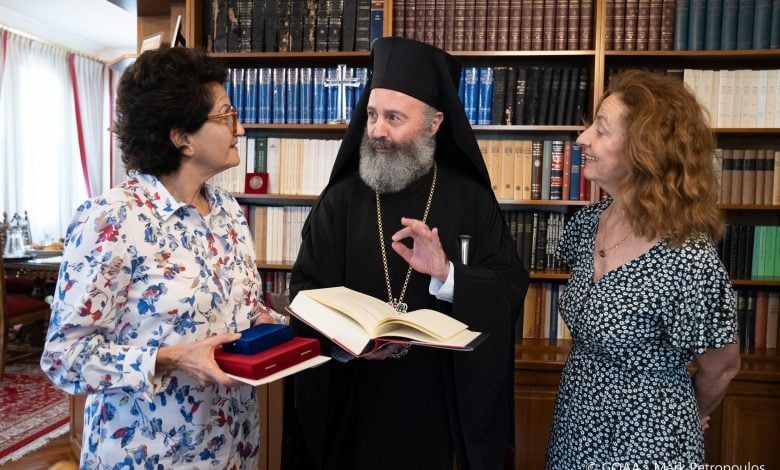 His Eminence Archbishop Makarios of Australia was visited by the popular Greek performer Alkistis Protopsalti, on the occasion of her presence in Sydney, Australia for her participation in the Greek Festival of Sydney.
The visit took place on Monday morning, 20 February 2023. Ms. Alkistis Protopsalti, accompanied by her colleague, Ms. Tonia Dragouni, arrived at the central facilities of the Holy Archdiocese, where she was received by His Grace Bishop Bartholomew of Charioupolis, as well as The Chancellor of the Holy Archdiocese, Archimandrite of the Ecumenical Throne Christophoros Krikelis, and by clergy of the Offices of the Archdiocese.
Ms. Protopsalti and her colleague were first guided to the Holy Cathedral of the Annunciation of Our Lady, where they reverently lit a candle and were informed about its history.
Afterwards, they were cordially received by His Eminence Archbishop Makarios of Australia, at the offices of the Holy Archdiocese, where they had a long and quality discussion regarding the life of the Greek Community of Australia, the activities and the work of the local Church, as well as the cultural development in the beloved homeland and in Australia. The President of the Greek Festival of Sydney, Ms. Nia Karteris, was also present.
At the end of the meeting, the Archbishop expressed his congratulations for the great contribution of Ms. Protopsaltis to Greek Culture and of course to Greek music, as well as wishing her good health, inspiration and strength to continue her creative path in the music field, while offering both herself and Ms. Dragouni souvenirs. Among them, the dedicated volume, which was published under the care of the Archbishop himself, on the occasion of the completion of thirty years since the election of His All-Holiness Ecumenical Patriarch Bartholomew.
For her part, the popular performer, after the end of the meeting, thanked His Eminence Archbishop Makarios for his hospitality, while declaring: "Today was a very special day. It was a great pleasure and honour to meet and talk with His Eminence Archbishop Makarios of Australia, who welcomed us to the Holy Archdiocese of Australia. His calmness, kindness, kind words, full of love, light and faith, will be deeply engraved in our hearts forever. We were inspired by his pure outlook, which soothed our souls, and filled us with optimism."
His Eminence Archbishop Makarios thanked Ms. Protopsaltis for her words and wished her a safe return to Greece, while he received from the famous Greek performer a promise that she will visit the fifth continent again.