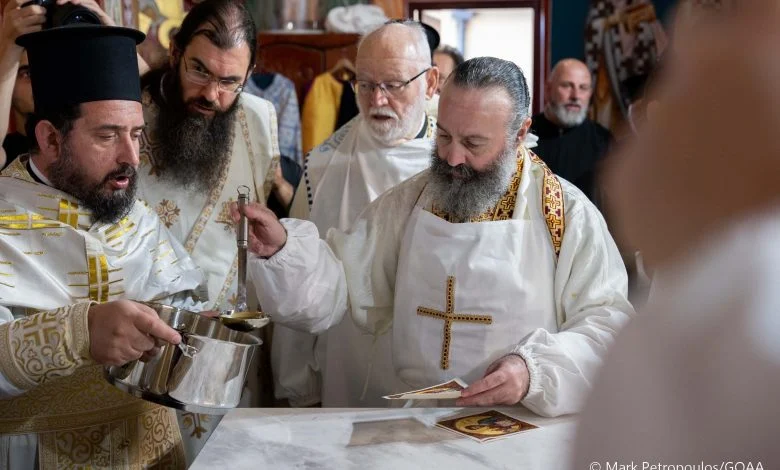 The Consecration of the Church of St Nicholas in Yarraville, Melbourne, on Saturday morning the 3rd of December was conducted with ecclesiastical splendour by His Eminence Archbishop Makarios of Australia.
With this blessed service, began the two-day pastoral visit of His Eminence to the Districts of Northcote and Melbourne, where he will have the opportunity to communicate with his spiritual children in Victoria and participate in important church events.
During the Consecration of the Church of St Nicholas as well as the Hierarchical Diving Liturgy, also joining in prayer from the Holy Altar was Metropolitan Ezekiel of Dervis, the Archiepiscopal Vicars of Northcote and Melbourne, Their Graces, Bishop Evmenios of Kerasountos and Kyriakos of Sozopolis along with many priests from the two Archdiocesan Districts of Victoria.
Among those present was also the Consul General of Greece in Melbourne, Mr Emmanuel Kakavelakis, the President of the Victorian Inter-Communities Council, Mr Antonis Tsourdalakis, and the brother of the Ecumenical Patriarch, Mr Nikolaos Archontonis, and his wife Catherine.
Speaking in front of the large congregation that reverently participated in the historic event of the Consecration for the Greek Orthodox Parish of Yarraville, His Eminence first referred to the Service of the Consecration that had just taken place and compared it to the Holy Baptism that the faithful receive upon entering the Orthodox Church.
In continuation, he expressed his gratitude, on behalf of the local Church, to all those who contributed over time to the construction and completion of the consecrated Church; both living and departed. He made special mention of Fr Alexander Korlos, the Church Rector, whom he warmly thanked for his noble efforts and many years of service to the Parish.
Concluding, the Archbishop blessed the congregation and wished them well in view of the commemoration of their Patron Saint; Saint Nicholas the Wonderworker, Archbishop of Myra.
After the conclusion of the Divine Liturgy, a meal was served for everyone in the church hall.