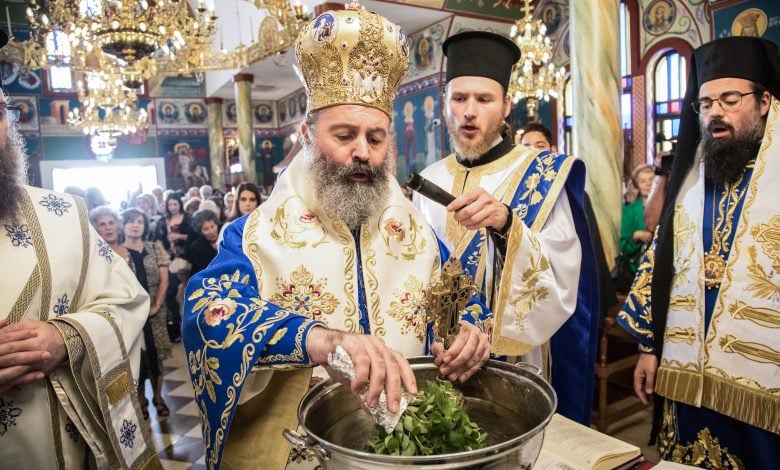 The feast of Theophany was celebrated with grandeur and splendour in the most Greek-befitting city of Melbourne by His Eminence Archbishop Makarios of Australia.
The Church of The Holy Epiphany in Frankston was the centre of the celebrations for the great Despotic Feast of Orthodoxy. In a crowded church, His Eminence officiated at Matins, conducted the Great Sanctification of the Waters and presided over the Hierarchical Divine Liturgy, while also present in prayer were Their Graces, Bishop Kyriakos of Sozopolis, Bishop Evmenios of Kerasounta and many clergy from both the Archdiocesan Districts of Melbourne and Northcote. Others who were also in attendance were Metropolitan Ezekiel of Dervis, the Consul General of Greece in Melbourne, Mr Emmanuel Kakavelakis, the President of the Victorian Inter-Communities Council, Mr Tony Tsourdalakis, and many representatives from Greek bodies and organisations as well as the Archon of the Holy Great Church of Christ, Mr Athanasios Kehagioglou.
After the Dismissal of the Divine Liturgy, clergy and laity went in procession to the promenade of Frankston Pier, where the Archbishop presided over the Service of the Blessing of the Waters and the immersion of the Holy Cross. Overwhelming and moving was the attendance of the Greek people at Frankston pier where the ceremony commemorating the Baptism of Christ in the River Jordan was held after a two year break due to the pandemic and in the presence of their Shepherd for the first time since his arrival to Australia.
More than 25 young believers dived into the water to retrieve the Holy Cross that was eventually caught by Mr. Emmanuel Spiroglou from the Parish of St Haralambos in Templestowe. His Eminence Archbishop Makarios congratulated and blessed all the swimmers while he expressed his paternal pleasure for the respect shown by the Greek community, especially the new generation, towards the ancestral customs and the Orthodox faith.
The celebrations were followed by a festive meal given in honour of the Archbishop of Australia in the hall of the Frankston Parish – Community of The Holy Epiphany.