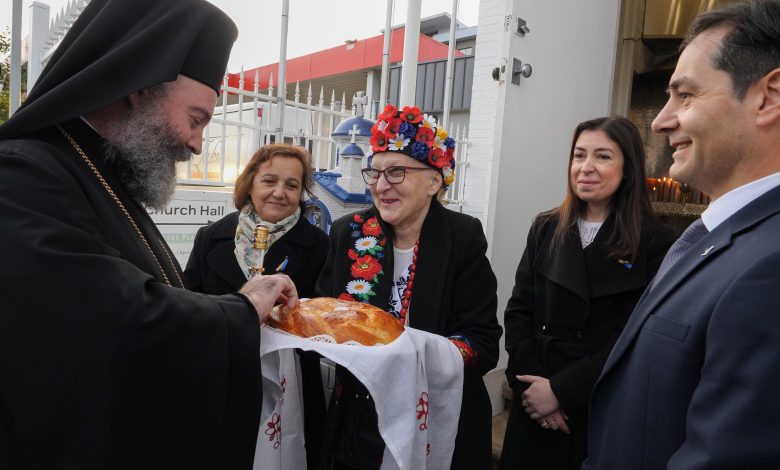 Feelings of deep emotion filled the hearts of the members of the Ukrainian Orthodox Parish – Community of Saint Savvas the New of Kalymnos, in the suburb of Banksia in Sydney, as they welcomed for the first time their Archbishop, His Eminence Archbishop Makarios of Australia, after their accession into the Holy Archdiocese of Australia.
His Eminence's visit marked a historic event – the official accession of the first in Australia Ukrainian Parish-Community into the Holy Archdiocese of Australia. This historic event was celebrated spiritually and in thanksgiving with the celebration of the Divine Liturgy, presided over by His Eminence Archbishop Makarios, on a day, in fact, during which the Church honours the 318 Holy Fathers of the First Ecumenical Council.
His Eminence, referring to this timely coincidence, spoke of a special blessing from God and reminded that all the Ecumenical Councils, including the first, which was convened in Nicaea of Bithynia, their mission was to defend the unity of the Church against the various heresies and trials that at times plagued it.
Archbishop Makarios then addressed the Proistamenos of the Parish, Father Savvas Pizanias, and thanked him for his valuable contribution to achieving unity and canonical communion with the Holy Archdiocese of Australia.
He conveyed to him the satisfaction and paternal wishes of His All-Holiness Ecumenical Patriarch Bartholomew, while pointing out that the Mother Church always seeks to embrace her children and take care of their needs. This fact is confirmed both by the granting of Autocephaly to the Ukrainian Orthodox Church and by the inclusion of the Ukrainian Parishes and Communities of the fifth continent to the jurisdiction of the Holy Archdiocese of Australia.
Finally, His Eminence Archbishop Makarios, after expressing the hope that the Parish of Saint Savvas will progress spiritually and prosper, did not fail to focus on an issue that overshadowed the joy and enthusiasm for this historic day for the Parish and the local Church. The cause of the unjust and cruel war, which is still raging in Ukraine and has cost the lives of thousands of people, has forced millions more to flee their homes and has turned entire cities into ruins.
Speaking of the "utterly absurd futility of a very wicked and sinful plan," the Archbishop expressed his unwavering support for the afflicted Ukrainian people and wished the merciful God "to put an end to this madness and restore peace."
He urged everyone to resort to fervent prayer, following the example of the patron saint of their Parish, Saint Savvas of Kalymnos, with the hope that peace and unity would prevail and defeat the pervasive evil in suffering Ukraine.
It is noted that during the Divine Liturgy among the congregation was, among others, the State MP, Mr. Steve Kamper, the High Commissioner of the Republic of Cyprus to Australia, Mrs. Martha Mavrommati, and the Consul General of Greece in Sydney, Mr. Christos Karras.